USA: State Department's attack on BDS movement violates free speech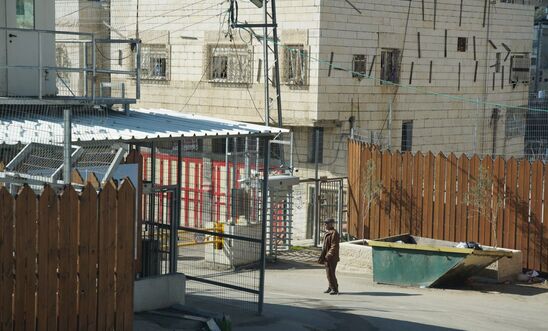 An Israeli military checkpoint in the occupied Palestinian West Bank © Fadi Abou Akleh
Announcement came during Mike Pompeo visit to Israeli settlement in West Bank
Designation 'process comes across as particularly hypocritical and deceitful coming from an administration that has emboldened neo-Nazis' - Bob Goodfellow
Responding to the US State Department designating the Boycott, Divestment, and Sanctions (BDS) movement antisemitic earlier today, Bob Goodfellow, Interim Executive Director of Amnesty International USA, said:
"This is simply the latest attack from a US government determined to undermine the universality of human rights and the global fight against racism and discrimination, including antisemitism.

"Advocating for boycotts, divestment and sanctions is a form of non-violent advocacy and of free expression that must be protected.

"The Department of State's targeting of groups advocating for using peaceful means - such as boycotts - to end human rights violations against Palestinians as antisemitic violates freedom of expression and is a gift to those who seek to silence, harass, intimidate and oppress those standing up for human rights around the world. 

"The US administration is following the Israeli government's approach in using false and politically-motivated accusations of antisemitism to harm peaceful activists - including human rights defenders - and shield from accountability those responsible for illegal actions that harm people in Israel, in the Occupied Palestinian Territories and here at home. 

"The process comes across as particularly hypocritical and deceitful coming from an administration that has emboldened neo-Nazis, white supremacists and other groups who advocate violence and discrimination, shown a callous disregard for international law, and favoured Israeli policies that result in institutionalised discrimination and systematic human rights violations against millions of Palestinians.

"This process also hurts Jewish people by equating Israel with Judaism and likening criticism of Israeli government policies and practices to antisemitism. It undermines our work in the Middle East and other regions to protect the rights of religious and other minorities.

"We will continue to support our Israeli and Palestinian colleagues, including BDS activists, who - like human rights defenders around the world - speak up when justice, freedom, truth and dignity are denied."
Settlement visit
Earlier today, Mike Pompeo visited the Israeli settlement of Psagot, the first time a serving US Secretary of State has ever visited an illegal Israeli settlement. Last November the USA announced it would not from that point on consider Israel's West Bank settlements to be illegal under international law, a view which is in stark contrast to several UN resolutions and the stance of almost every government in the world.