USA: Angola 3's Albert Woodfox calls on Obama to release jailed Native American Leonard Peltier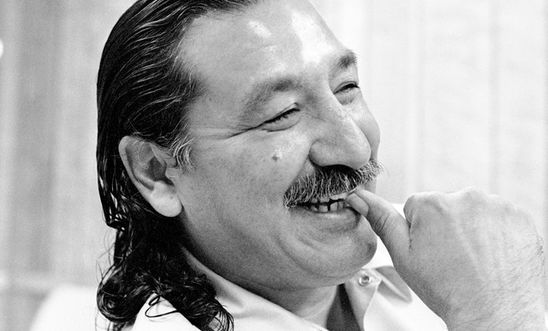 Leonard Peltier has been in jail since the mid-1970s © Jeffry Scott
'When I look at Leonard Peltier's case I can almost see myself' - Albert Woodfox
Obama has only a fortnight to grant clemency for Peltier on 'humanitarian grounds and in the interests of justice'
Albert Woodfox, the African American man who was released from jail in the USA last year after spending nearly 43 years in solitary confinement, is calling on President Barack Obama to commute the sentence of Leonard Peltier, the 72-year-old Native American man who has himself been in jail for over 40 years - some of it in solitary confinement - despite concerns over the fairness of his trial.
Making the call during the final days of Barack Obama's presidency, the 69-year-old Woodfox urged the president to end what he called a "travesty of justice" before leaving office on 20 January.
There are longstanding concerns about the safety of Peltier's conviction for his alleged part in the killing of two FBI agents over 40 years ago. 
On 26 June 1975, during a confrontation involving members of the American Indian Movement campaign group on the Pine Ridge Indian reservation in South Dakota, FBI agents Ronald Williams and Jack Coler were shot dead. Peltier, who was convicted of their murders in 1977 and sentenced to two consecutive life sentences, never denied being present during the incident but has always denied killing the two men. 
A key eyewitness was allegedly coerced into testifying against Peltier following months of FBI harassment and threats, and her damning testimony was used as the basis to extradite Peltier from Canada to face trial. She later retracted her testimony but was not allowed to be called as a defence witness at Peltier's subsequent trial. There are further concerns about the evidence linking Peltier to the shootings as well as the prosecution's withholding of evidence that might have assisted his defence. 
In February last year Peltier's lawyers filed a petition for clemency with the US Department of Justice, and a further clemency petition with the Obama administration in March. Parole examiners have so far failed to take mitigating factors into account. Meanwhile, James Reynolds, an attorney who himself played a part in Peltier's conviction, has added his voice to calls for presidential clemency, saying in a letter to Barack Obama that Peltier's release would be "in the best interest of justice in considering the totality of all matters involved".
Amnesty believes that given all legal remedies have been exhausted and that Peltier has already spent over 40 years in prison and is in poor health, President Obama should commute his sentence and release him on humanitarian grounds and in the interests of justice. Peltier is imprisoned in Florida, approximately 2,000 miles from his family in North Dakota. 
Albert Woodfox, who was himself
released
from Louisiana State Penitentiary (known as "Angola") in February last year after a long legal battle as part of the "Angola 3" campaign.
"When I look at Leonard Peltier's case I can almost see myself.

 

"It's tragic that someone can be left to rot behind bars like this, and I know what that can do to you.

 

"President Obama has the power to end this travesty of justice and commute Leonard's cruel sentence.

 

"Before he leaves office, Mr Obama should ensure Leonard is finally given his freedom."
Amnesty International UK's Individuals At Risk Campaign Manager Kathy Voss said:
"It's testimony to Albert's amazing, unbroken spirit that he's plunged himself into campaigning for others after enduring an incredible 43 years in solitary confinement.

 

"Time is running out if President Obama is to issue a clemency order for Leonard Peltier - he should get on and do it as soon as possible."
Woodfox: from world's longest solitary confinement prisoner to campaigner
Albert Woodfox, the last member of the "Angola 3" detainees in Louisiana, was released on 19 February 2016, his 69th birthday, a release Amnesty called "long overdue and undeniably just". 
Woodfox, along with another "Angola 3" detainee, Herman Wallace, was convicted of the murder of a prison guard called Brent Miller in 1972. However, no physical evidence linking Woodfox and Wallace to Miller's murder was ever found, while potentially exculpatory DNA evidence was lost and their convictions were based on questionable inmate testimony. Over the years, documents have emerged suggesting that the main eyewitness was bribed by prison officials into giving statements against the men and that the authorities also withheld evidence about the perjured testimony of another inmate witness. Meanwhile, yet another witness later retracted his testimony.
Along with a third Angola prisoner, Robert King, Woodfox and Wallace were placed in solitary confinement for decades. The trio - who are all African American - have always maintained they were punished with prison isolation for having joined the Black Panther Party and calling for prison reforms. King was released in 2001 after 29 years in solitary confinement, while Wallace was released in October 2013 but died of cancer three days later. Until his own release in February, Woodfox spent nearly all of his 43 years at Angola in solitary confinement in a 9ft by 6ft cell - believed to be the longest period of solitary confinement endured by any detainee in modern times.
In October, Woodfox and fellow Angola 3 campaigner Robert King visited London to help launch Amnesty International UK's "Write For Rights" letter-writing
campaign
. Part of this campaign is a
call for clemency
for Leonard Peltier.