Albert Woodfox - man who spent 43 years in solitary confinement - in London to launch Amnesty letter-writing campaign.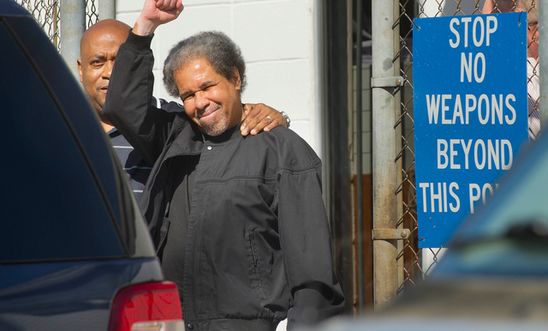 Albert Woodfox walks from prison © Travis Spradling/The Advocate via AP
'Angola 3' pair Albert Woodfox and Robert King launch Amnesty's Write for Rights campaign
Two former prisoners of the notorious 'Angola' prison in Louisiana, USA, Albert Woodfox and Robert King will be in London on Tuesday 1 November to launch Amnesty International's flagship annual letter-writing campaign Write for Rights.
Albert Woodfox, who was featured in last year's Write for Rights campaign, was released in February this year after spending 45 years in prison, an incredible 43 of which were spent in a 9ft x 6ft cell in solitary confinement. Albert will share his experiences of his life during, and after his imprisonment, and the impact that Amnesty's support has had on him.
Robert King was released in 2001 after a court reversed his conviction in the death of a fellow inmate in 1973. Robert spent nearly 30 years in solitary confinement and upon his release, dedicated his life to drawing attention to conditions at Angola, and campaigning for the release of his two friends Albert Woodfox and Herman Wallace. Herman died in 2013.
Also speaking at the event will be Richard Ratcliffe, the husband of Nazanin Zaghari-Ratcliffe, a British-Iranian charity worker sentenced to five years in jail in Iran. Nazanin is featured in this year's Write for Rights campaign.
Amnesty International UK Director, Kate Allen who is hosting the event said:
"We're delighted that Albert Woodfox and Robert King can celebrate their freedom with Amnesty supporters here in the UK. Tens of thousands of people wrote messages of support to Albert while he was locked up. 43 years in solitary is an unimaginable torturous time. It's an honour we can celebrate his much-delayed and long-awaited freedom.

"Albert's release highlights once again that writing letters can save lives.

"This year our hundreds of thousands of supporters in the UK will be writing in support of Nazanin Zarghari-Ratcliffe who is imprisoned in Iran.  We hope that Richard will be encouraged to see that Amnesty will continue to stand with Nazanin and him, and that he is not alone in his campaign for her release."   
About Albert Woodfox
On 17 April 1972, Albert Woodfox, now aged 69 was placed in solitary confinement in Louisiana State Penitentiary - known as Angola Prison.  Albert and Herman Wallace – who was also held in solitary confinement – were charged, and later convicted of, the murder of a prison guard – something they consistently denied.
Woodfox's conviction had been overturned three times, the latest in 2013, but he remained in prison after the state of Louisiana appealed the ruling. The judges ruled that he did not receive a fair trial in 1998 because of discrimination in the selection of the grand jury foreperson. Woodfox's co-defendant, Herman Wallace, was released from prison in October 2013 just days before he died of liver cancer. A federal judge overturned his conviction on the basis of the systematic exclusion of women from the grand jury during his 1974 trial.
Woodfox was eventually released in February 2016 after accepting a 'no-contest' plea in exchange for dropping the threat of a third trial for the prison guard killing – the two previous trials had been struck down by the courts.
In 1972, Robert King, who was imprisoned on robbery charges, was moved to Angola prison shortly after the death of prison guard Brent Miller. Upon arrival, King was immediately put into solitary confinement where he remained until his 2001 release.