UK: Passing of new public order laws 'marks a dark new era for peaceful protest'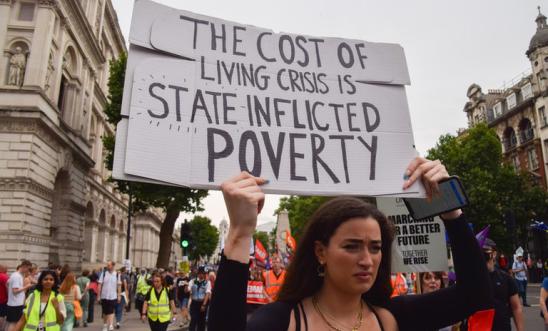 Responding to the news of additional protest regulations being passed by the House of Lords, Sacha Deshmukh, chief executive at Amnesty International UK, said:
"The shifty passing of these regulations as law marks a dark new era for protest rights in the UK. The police have, in effect, been given licence to close down almost any protest they wish.

"Given the well-known problems of institutional racism, sexism, homophobia and political bias in the police – only underscored by the explosive revelations from the Casey Report into the Met Police - now is absolutely not the time to be handing them ever-more broad and sweeping powers to pick and choose which protests they will and won't allow.

"But let's not fool ourselves, this news comes as no surprise. The Government has been hellbent on passing a whole raft of anti-protest legislation in recent years and this latest addition just stands alongside an already absurdly long list of ways that the fundamental human right to peaceful protest is being muzzled.

"We can only hope that future governments see this for what it is and repeal this insidious package of laws being inflicted on the country."
Peaceful protest under threat
In April this year, the highly controversial Public Order Bill was finally passed in the House of Lords. The bill introduced more powers to restrict people's fundamental right to peaceful protest just months after draconian anti-protest measures were enacted in the Policing, Crime, Sentencing and Courts Act.
However, certain elements of the Public Order Bill (now Act) were rejected by the House of Lords because they were deemed too restrictive and had not been given proper consideration.
Undeterred, the UK government sought to reinstate these additional laws but through a different process - one in which there's even less consideration and which is more difficult for the Lords to oppose.
This is the first time the UK government has used these tactics to push through legislation that has already been voted down.
Before the debate, two motions were tabled: a "regret" motion from the Labour Party, which criticised the regulations, and a "fatal" motion from the Green Party, which would have stopped the regulations entirely.
Amnesty specifically called on Lords to vote for the fatal motion as this would stop the new regulations coming into effect and avoid any further damage to the rights to freedom of expression and assembly in this country.
However, Lady Jenny Jones' fatal motion on the public order regulations was rejected by peers by 154 votes to 68, majority 86.