UK: Latest figures show around half of Afghan asylum claims rejected by Home Office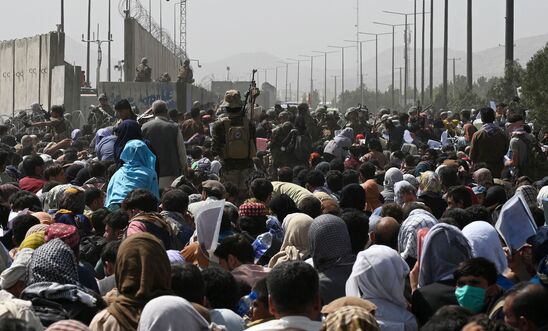 Afghans gather on a roadside near the military part of the airport in Kabul on August 20, 2021, hoping to flee from the country after the Taliban's military takeover of Afghanistan. © AFP via Getty Images
Quarterly Home Office immigration statistics show that in year to June 2021, ​only 489 out of 1,089 Afghans ​granted protection
Major backlog of 50,000 asylum cases still unresolved in the system
'Shockingly, the Home Office rejected asylum claims from Afghans at the very time that the Taliban was taking control of the country' - Steve Valdez-Symonds
New Home Office statistics published today show that ​around half of asylum claims by Afghans determined by the Home Office over the 12 months to the end June 2021 were rejected, with some of the refusals being issued even as the Taliban was taking control of Afghanistan.
In the quarterly update to the Home Office's immigration figures -  which provide information on the UK's immigration system, including people coming to the UK, those applying for asylum, and those who are detained or removed - figures show that of 1,089 Afghans whose asylum claims were determined in the year to June 2021, only 489 were granted some form of protective status. ​Many Afghans will have received refusals of their claims from the Home Office at the same time that Taliban forces were gaining control of a succession of Afghan provinces and closing in on Kabul.
Amnesty International said that many lives of Afghans and others fleeing persecution will now be "left in painful limbo" in the UK as a consequence of the rejections.
Today's data also shows a backlog of more than 50,000 asylum cases compared to approximately 20,000 claims waiting to be decided four years ago. This includes a steep rise in the number of claimants who have been waiting for periods exceeding 12 months.
Other key findings for the year ending June 2021:
21,686 asylum claims

were determined by the Home Office (including claims that were withdrawn)

10,064 people were granted some form of protective status
6,449 people were granted refugee family reunion visas, dependent on their family member having got through the UK's asylum system successfully
A further 661 refugees were resettled to the UK in that period (more than four fifths of whom were Syrian)
Steve Valdez-Symonds, Amnesty International UK's Refugee and Migrant Rights Director, said:
"Shockingly, the Home Office rejected claims from Afghans at the very time the Taliban was taking control of the country.

"It's heart-rending to think of the distress and anxiety that many people go through when their asylum claims are rejected - the fear of being detained or even returned to danger while their ​lives left in painful limbo here.

"These statistics show once again that the Home Secretary's cruel plans to criminalise and prevent people from seeking asylum in the UK are completely out of touch with the realities of the volatile world we live in.

"The Home Secretary should focus on making the UK asylum system more accessible - reducing not adding to delays and improving the quality of decision-making - so vulnerable people receive the protection to which they are entitled."