UK: Home Office should withdraw trade fair invite for Israeli spyware firm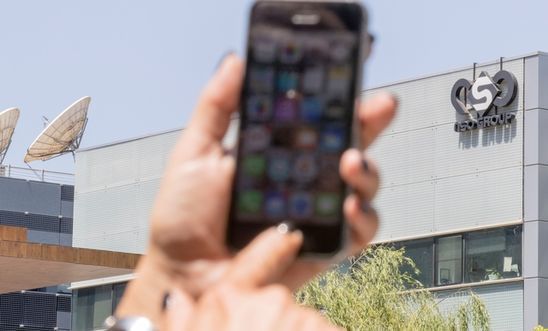 NSO Group's offices in Herzliya, near Tel Aviv © JACK GUEZ/AFP/Getty Images
Urgent letter sent to Home Office minister Kit Malthouse 
Legal action concerning NSO Group is ongoing in Israel
'It's frankly astonishing that the UK would think it appropriate to invite NSO to hawk its wares at a trade fair in Britain' - Kate Allen
Amnesty International has written to the Home Office minister Kit Malthouse asking him to withdraw an invitation to the controversial Israeli spyware firm NSO Group to attend a major security trade fair being held in the UK next week. 
It was recently revealed that NSO Group has been invited to the three-day Security and Policing event in Farnborough in Hampshire (3-5 March), a major trade fair being hosted by the Home Office.
The Security and Policing event bills itself as an opportunity for security and policing equipment companies "to meet, network and discuss the latest advances in delivering national security and resilience with UK suppliers, colleagues and Government officials". The event's publicity materials say that "key UK ministers" will be addressing attendees. 
In its letter to Mr Malthouse, Amnesty points to the fact that NSO Group's controversial Pegasus spyware has been used to target numerous human rights defenders around the world, including in spyware attacks likely to have been perpetrated by Saudi Arabia.  
In October, Amnesty uncovered digital attacks using Pegasus against two prominent Moroccan human rights defenders - academic and activist Maati Monjib, and human rights lawyer Abdessadak El Bouchattaoui. Previous research has shown how the same spyware has been used to target at least 24 human rights defenders, journalists and parliamentarians in Mexico; Saudi activists Omar Abdulaziz, Yahya Assiri and Ghanem Al-Masarir; award-winning Emirati human rights campaigner Ahmed Mansoor; and, allegedly, the murdered Saudi journalist Jamal Khashoggi.
Amnesty's letter calls on the Government to "prevent the promotion, advertising and marketing of this equipment at UK trade fairs until further notice, pending the development of adequate controls and safeguards over the proliferation of these surveillance systems". 
Last month, Amnesty Israel and others began a legal challenge against the Israeli Ministry of Defence, arguing that the defence ministry should revoke NSO Group's export licence. In October, Facebook announced it was also suing NSO Group after its spyware was used to exploit a vulnerability in the Facebook-owned WhatsApp messaging service to target its users, including at least 100 human rights defenders.
In its Home Office letter, Amnesty points out that the UK Government has recently made a high-profile commitment over safeguarding frontline human rights workers around the world - a commitment which the NSO Group invitation appears to undermine.  
Yahya Assiri, a UK-based Saudi Arabian human rights activist and refugee who has previously been targeted by the NSO spyware, said: 
"The Saudi intelligence services would have been only too delighted to get their hands on NSO Group's spyware - it's the perfect tool for them to go after people like me.

"It's shocking to hear that NSO Group has been invited to this event. Does the Home Office not realise what NSO has been up to?"
Kate Allen, Amnesty International UK Director, said: 
"It's frankly astonishing that the UK would think it appropriate to invite NSO to hawk its wares at a trade fair in Britain. 

"There's currently huge global concern over NSO Group's spyware being used to target human rights defenders and others around the world, and a legal case against the Israeli Ministry of Defence over its granting of an export licence for NSO is still before the courts in Tel Aviv.

"This comes at a time when the UK Government is talking of the need to support the brave work done by frontline human rights defenders around the world - some of the very same people targeted by the authoritarian countries that NSO Group is so keen to sell its spyware to. 

"The UK authorities should revoke NSO Group's invitation to the Hampshire trade fair as a matter of urgency."