Turkish foreign minister's allegations threaten country's human rights movement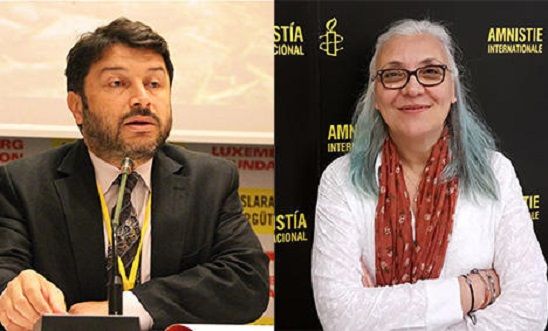 Taner Kiliç (l) and Idil Eser (r) from Amnesty Turkey are both currently behind bars © Amnesty International
'It is hard to see how the … wider human rights movement in Turkey can continue to function' - John Dalhuisen 
Responding to statements made by Turkish Foreign Minister Mevlüt Çavuşoğlu at a press conference following his meeting with the European Union's High Representative for Foreign Affairs Federica Mogherini in Brussels today, Amnesty International's Europe Director, John Dalhuisen, said:
"Whilst we welcome the acknowledgement by the Foreign Minister that Amnesty International are regarded as 'a credible global organisation', his assertion that we will be 'able to conduct activities freely' is a bold claim in light of the fact that both the Director and the Chair of Amnesty International Turkey are languishing behind bars alongside seven other human rights activists.

"The absurd case against Idil Eser is not based on any nefarious activities but instead rests entirely upon the legitimate work of Amnesty International. If this work is criminalised, it is hard to see how the organisation - or indeed the wider human rights movement in Turkey - can continue to function.

"Equally, the unfounded allegation that has landed Taner Kiliç in jail - that he downloaded and used Bylock on his phone - is false and we will show it. The vital work done by Amnesty International and the people who undertake that work cannot be separated. They are indivisible and we will fight to secure their release."
Idil Eser is director of Amnesty International Turkey. Taner Kiliç is Amnesty International's Turkey chair.