Amnesty activists to gather outside Turkish Embassy today to demand release of colleague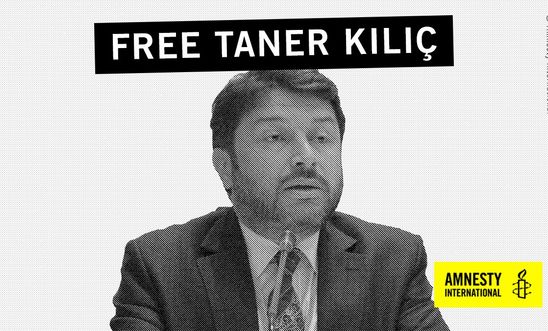 Amnesty International staff and activists will gather outside the Turkish Embassy in London this afternoon to demand the immediate and unconditional release of the chair of their Turkey office.
Taner Kiliç was detained last week on suspicion of belonging to the Fethullah Gülen movement together with 22 other lawyers in the western city of Izmir, a move that prompted international condemnation and media coverage.  Kiliç was then charged with "membership of a terrorist organisation" and is being held in pre-trial detention.
The absurd charge against Mr Kiliç makes a mockery of justice, Amnesty says, and highlights the devastating impact of the Turkish authorities' crackdown following the failed coup attempt in July last year.  Since then, over 100,000 public sector employees have been sacked and hundreds of journalists and media workers detained. Hundreds of media outlets and NGOs have been shut down.
Amnesty activists will be outside the embassy at 5pm today with placards saying 'Free Taner Kiliç' and 'Turkey: Stop the crackdown'. They will be chanting for his release, and will attempt to hand a letter to embassy staff.
Kate Allen, Director of Amnesty International UK, said:
"Taner Kiliç has been bravely standing up for human rights for many years and the charges against him are completely unfounded. He must be released immediately and unconditionally. He is one of thousands who have been unfairly targeted by the Turkish authorities and whose lives have been ruined by the government's paranoid crackdown on perceived critics.
"We'll continue to campaign for his release and continue with our human rights work in Turkey. If the aim of the Turkish authorities is to silence dissent, they will not succeed."
What: Demonstration demanding the release of Amnesty Turkey chair Taner Kiliç
Where: Turkish Embassy, 43 Belgrave Square London SW1X 8PA
When: Today - Wednesday 15 June, 17.00 – 18.00
Who: Kate Allen, Director of Amnesty UK and Salil Shetty, Secretary General of Amnesty International, will be available for interview
Background
Police arrived at the Izmir home of Taner Kiliç, who has served on the board of Amnesty International Turkey for various periods since 2002, on Tuesday 6 June, searching his home and later his office. A detention order was issued against him along with 22 other lawyers, referring to an investigation into suspected members of the " Fethullahist Terrorist Organisation".
Kiliç was taken to court on Friday and charged with membership of the Gülen group and remanded in pre-trial detention. The only evidence presented by the authorities purportedly demonstrating Kiliç's membership of the Gülen movement is that Bylock, a secure mobile messaging application that the authorities say was used by members of the "Fethullahist Terrorist Organisation", was discovered to have been on his phone in August 2014. 
Taner Kiliç denies ever having downloaded or used Bylock, or even having heard of it until its use was widely publicised in connection with last year's attempted coup.
The Turkish government blames the coup attempt on Fethullah Gülen, a US-based cleric, and has since designated his movement a terrorist organisation. This has led to the arbitrary detention of thousands of people with no involvement in the coup attempt.
Taner Kiliç's arrest has drawn widespread international condemnation, including from the US State Department, the EU, the Council of Europe, Germany's Human Rights Commissioner and Denmark's Minister of Foreign Affairs, as well as international and domestic human rights organisations.