Turkey: 'dark day for press freedom' as six journalists jailed for life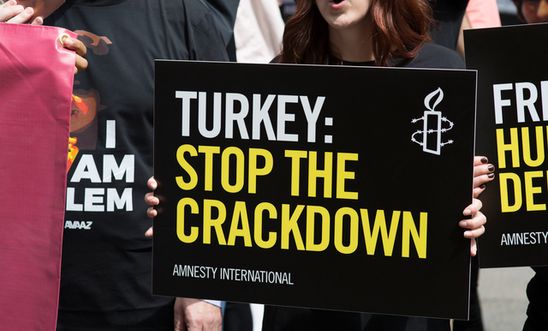 Journalists and other members of civil society have taken the full brunt of Turkey's post-coup crackdown © Amnesty International (Clare Bullen)
Sentences are 'clearly intended to instil fear' - Gauri van Gulik
At least 100 journalists are currently behind bars in Turkey, the highest number of any country in the world
Following the aggravated life sentences handed down to six journalists in Turkey today for "attempting to overthrow the constitutional order", Gauri van Gulik, Amnesty International's Europe Director, said:
 
"This is a dark day for press freedom and for justice in Turkey and sets a chilling precedent for scores of other journalists facing trials on similar trumped-up terrorism charges.
"The cruelty of these politically-motivated sentences - 30 years in jail with up to 23 hours per day in solitary confinement and no possibility of parole - are clearly intended to instil fear. 

"Imposing such a sentence would not only flout freedom of expression, it would violate the prohibition of torture and other ill-treatment.

"News of these sentences drained the joy from celebrations for the release of another journalist, Deniz Yücel. He had been in prison for more than a year, without an indictment, much of it in solitary confinement."
The six journalists given life sentences today are Nazli Ilicak, Ahmet Altan, Mehmet Altan, Fevzi Yazici, Yakup Simsek and Sukru Tugrul Ozsengul.
Solitary confinement breaches Mandela Rules
Prolonged solitary confinement - 22 hours a day or more without meaningful human contact for over 15 days - is a direct contravention of the UN Standard Minimum Rules for the Treatment of Prisoners (the Nelson Mandela Rules). It constitutes cruel, inhuman or degrading punishment and could amount to torture, certainly if applied for months or years.
Post-coup crackdown, including on Amnesty staff
Since the attempted coup of July 2016, criminal investigations have been opened against 150,000 people accused of being part of the "Fethullah Terrorist Organisation", which the Turkish government claims masterminded the coup. Some 50,000 people are currently jailed, including at least 100 journalists, the highest number of any country in the world. More than 100,000 public sector workers, including a quarter of the judiciary and hundreds of academics, have been arbitrarily dismissed.
Those caught up in the crackdown include Amnesty's Turkey chair, Taner Kılıç, and İdil Eser, the organisation's Turkey director, as well as nine other human rights activists accused of "membership of a terrorist organisation". Mr Kılıç was detained last June and has been in custody ever since, while Ms Eser was arrested a month later but released on bail - along with several others - at her first court hearing in October. If convicted, the 11 accused could face jail terms of up to 15 years. Amnesty has denounced the proceedings as "politically-motivated".