Trump UK visit: activists unfurl giant 'Resist' banners in front of US Embassy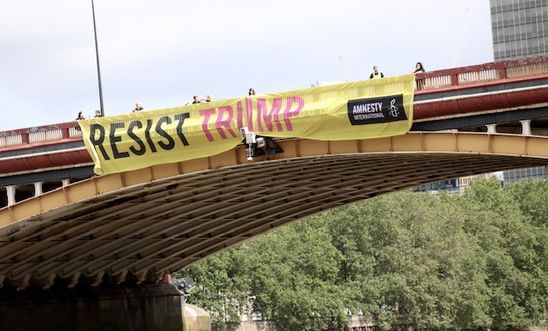 One of five banners hung from London's Vauxhall Bridge ahead of President Trump's visit © Marie-Anne Ventoura
'It was important to put this message right in front of the US Embassy itself' - Kate Allen
Amnesty International has unfurled giant "Resist" banners in front of the US Embassy in London as the US President Donald Trump begins his state visit to the UK. 
The five brightly-coloured, 20-metre-long banners - saying "Resist sexism", "Resist racism", "Resist hate", "Resist cruelty" and "Resist Trump" - were displayed on Vauxhall Bridge directly facing the central London embassy this morning.
Kate Allen, Amnesty International UK Section's Director, said:
"We need to strongly resist Donald Trump's trashing of human rights and it was important to put this message right in front of the US Embassy itself.

"President Trump's attacks on human rights should be resisted by everyone who cares about the rule of law, everyone who cares about the truth, and everyone who cares about justice. 

"We want Downing Street to show far greater resolve in standing up for human rights principles with this reckless administration. 

"Ministers need to be more vocal in pushing back when the Trump White House tries to trample on human rights - whether at home or abroad."
'Roll call of shame'
Ahead of President Trump's three-day visit, Amnesty wrote to Theresa May calling on the outgoing prime minister to stand up for human rights principles, specifically criticising the USA's recent decision to withdraw its support for the global Arms Trade Treaty and its policies on women's rights.
Amnesty has described Trump's two-and-a-half-year presidency as a "roll call of shame" - with multiple regressive measures on women's rights, minority rights, and refugee and migrants' rights, and a host of damaging moves intended to weaken long-established international human rights monitoring and funding bodies.