TripAdvisor staff urged to speak out over Israel settlements - open letter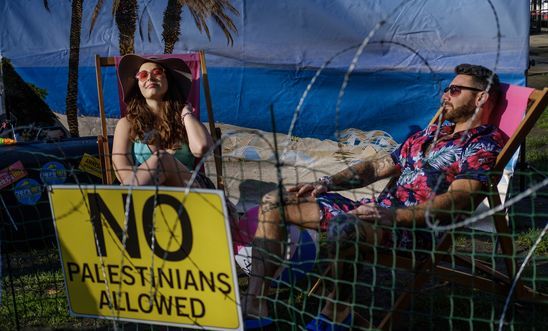 An Amnesty protest outside TripAdvisor head office in London in January © Jon Cornejo/Amnesty
Letter comes after TripAdvisor appears to deny any responsibility in listing properties in settlements
The US travel company promotes more than 70 attractions, tours, restaurants, cafés, hotels and rental apartments in 27 Israeli settlements
'War crimes are not a tourist attraction' - Mark Dummett
Amnesty International has written an open letter to employees of the tourism company TripAdvisor calling on them to speak out against the firm's role in fuelling abuses with its listings of properties and attractions in Israeli settlements in the Occupied Palestinian Territories.
Amnesty's letter says that by promoting Israeli settlements as tourist destinations, TripAdvisor is "glossing over their horrifying human rights record and normalising to the public what is recognised under international law as an illegal situation".
The US travel company - which operated the world's most- visited travel website - currently lists more than 70 attractions, tours, restaurants, cafés, hotels and rental apartments in 27 Israeli settlements. Amnesty's letter says that TripAdvisor staff "have a real power to make a difference". The letter goes on to say: "By cutting business ties with illegal settlements, TripAdvisor would be leading the way in the travel sector". 
Last year, Google employees joined Amnesty in a call to end plans to introduce a censored search engine in China known as "Dragonfly". After significant Google employee pressure, the project was dropped. 
The open letter was shared with TripAdvisor staff following the company's response to an extensive Amnesty report earlier this year which showed how online tourism giants Airbnb, TripAdvisor, Expedia and Booking.com are driving tourism to illegal Israeli settlements and contributing to their normalisation and expansion. In its response. TripAdvisor appeared to suggest that the company had no responsibility to stop advertising activities in or with Israeli settlements or other listings that violate international law.
Israel's illegal settlements - in the West Bank, including in East Jerusalem - have had a devastating impact on the human rights of Palestinians, with tens of thousands of homes demolished and large numbers of Palestinians forcibly displaced to make way for their construction, in a clear violation of international law. 
Mark Dummett, Head of Business and Human Rights at Amnesty International, said: 
"By promoting tourism in these illegal settlements, TripAdvisor is helping boost their economies and contributing to the immense suffering of Palestinians who have been uprooted from their land, had their homes destroyed and their natural resources plundered for settlement use.

"Israel's policy of settling Israeli citizens on stolen Palestinian land in occupied territory is a war crime.

"To maintain and expand illegal settlements, Israel imposes a system of institutionalised discrimination and human rights violations against Palestinians - making their daily lives a struggle. 

"We urge everyone working for TripAdvisor to stand up for human rights and join us in demanding that the company removes all its listings in settlements and of settlement-related attractions in the OPT. War crimes are not a tourist attraction."
More than half a century of occupation 
During the course of Israel's 52-year military occupation, more than 50,000 Palestinian homes and structures have been demolished, and tens of thousands of Palestinians have been forcibly removed. In their place, more than 600,000 Israeli settlers have been allowed to move into often purpose-built settlements, approximately 250 in number, with many of the settlements serviced by settler-only roads and guarded by a network of Israeli military checkpoints and other security infrastructure. The settlements are illegal under international law and a war crime. In total, approximately 1,000 square kilometres of Palestinian land has been expropriated by Israeli settlers in the past half-century.