Theresa May should tell Donald Trump about 'widespread fear' on human rights during Washington meeting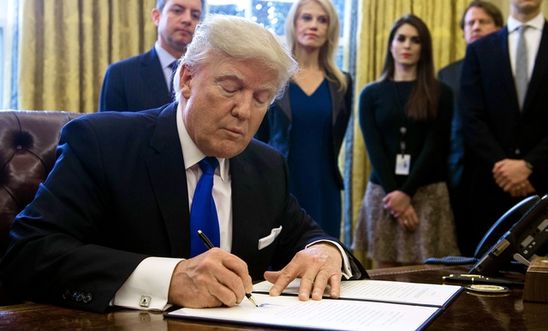 President Trump has already signed several controversial executive orders this week © AFP/Getty Images
'Mrs May shouldn't shy away from the human rights issues that are already looming large in the first week of the Trump presidency' - Kate Allen
Amnesty International has written to Theresa May ahead of her meeting with Donald Trump in Washington tomorrow urging her to point out to the new US president that there is "widespread fear of an erosion for human rights in and by the USA".
Mrs May is the first foreign leader to meet with newly-inaugurated President Trump and Amnesty is reminding the prime minister that she has a "unique opportunity" to influence the policy and approach of Mr Trump's new administration.
Amnesty's letter to Mrs May outlines three human rights issues it would like the prime minister to raise with President Trump:
Women's rights - especially on the need for the president to reverse his decision to reintroduce the "global gag rule" in relation to abortion services and advice, thus jeopardising millions of women and girls' access to safe terminations and impartial advice on reproductive health as part of new restrictions on the distribution of the USA's nearly $3bn overseas health budget.
Refugees and migrants - especially the need for the president to ensure that the USA remains willing to provide asylum for those fleeing persecution, and that indeed the USA should and could do more to help resettle Syrians and others in urgent need of humanitarian resettlement. The letter reminds the president that the USA has a "long tradition of resettling refugees" and that any departure from that risks "weakening global commitment" to refugee protection.
Guantánamo - that the president should reverse his plan to keep the detention centre open and even take new detainees to the naval base. UK nationals and UK residents have themselves been incarcerated and allegedly mistreated at the camp, and Mrs May should voice her opposition to any extension of the life of Guantánamo.
The letter also expresses "great concern" at President Trump's remarks this week that waterboarding torture "works". 
Amnesty International UK Director Kate Allen said:
"While he's said this sort of thing before, it's still extremely disturbing that we now have a new president of the United States of America who says he believes waterboarding torture works.

 

"During her meeting in Washington, Theresa May musn't flinch from telling the president some basic truths about the complete unacceptability of authorising a return to the use of waterboarding and other torture, or indeed of keeping Guantánamo open.

 

"While trade and security are likely to be top of her agenda in Washington, Mrs May shouldn't shy away from the human rights issues that are already looming large in the first week of the Trump presidency.

 

"As we saw with protests around the world last weekend, there is widespread fear of an erosion for human rights in and by the USA.

 

"Mrs May must in all conscience challenge Mr Trump over his reintroduction of the cruel 'global gag rule', which is likely to have a disastrous effect on women's safe access to abortion and other reproductive health services in some of the world's poorest countries.  

 

"With the world still in the midst of a global refugee crisis, Theresa May should remind President Trump that it's necessary for rich Western nations like the USA to take more responsibility for sheltering vulnerable people."