Theresa May must raise human rights issues during Netanyahu's UK visit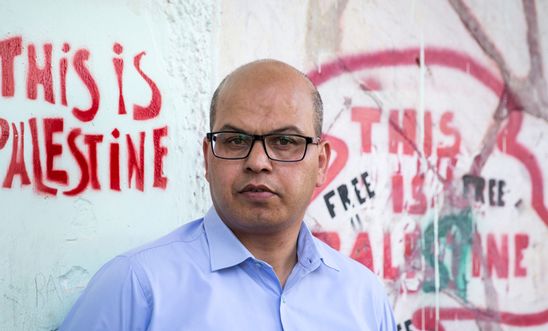 Farid al-Atrash is on trial thsis week for his past protests in Hebron © Amnesty International (Richard Burton)
Israeli prime minister Benjamin Netanyahu in UK to mark 100 years since Balfour Declaration
Visit coincides with Israel's military trial of two high-profile Palestinian activists 
'It's not just Balfour which is being marked this year, it's also 50 years since Israel's oppressive military occupation of the Palestinian territory began' - Kate Allen
Ahead of the five-day visit to the UK of the Israeli prime minister Benjamin Netanyahu this week (1-5 November), Amnesty International is calling on Prime Minister Theresa May to ensure that human rights issues are raised during her own and ministers' meetings with Mr Netanyahu.
The Israeli PM is visiting Britain to mark the centenary of the Balfour Declaration, the UK government statement in 1917 over its intention to provide a "national home for the Jewish people" in Palestine.
Mr Netanyahu's visit also comes during the 50th anniversary of Israel's military occupation of Palestinian territory during the 1967 Six-Day War, and Amnesty is campaigning for a ban on the import into the UK of all goods produced in numerous illegal Israeli settlements built on still-occupied Palestinian land. 
Kate Allen, Director of Amnesty International's United Kingdom Section, said:
"It's not just Balfour which is being marked this year, it's also 50 years since Israel's oppressive military occupation of the Palestinian territory began - an occupation which shows no sign of becoming any less cruel for the millions of Palestinians suffering under it.

"When Theresa May meets Benjamin Netanyahu, she should urge him to address Israel's mass human rights violations in the occupied territories, including by suspending all further settlement building and lifting all arbitrary and discriminatory restrictions on Palestinian movement, as well as ending the illegal blockade of Gaza and the collective punishment of Gaza's entire population. 

"Later this year the United Nations is planning to publish a list of international and Israeli businesses profiting from the illegal Israeli settlements, and the UK should pre-empt that by announcing a ban on the import into the UK of all products from illegal Israeli settlements.

"Israel's prolonged military occupation of Palestinian territory is utterly corrosive. We don't want to be here in another 50 years still talking about mass human rights violations resulting from Israel's occupation of Palestinian land."
Two Palestinian activists on trial
Amnesty is also urging Mrs May and ministers to raise the troubling case of two high-profile Palestinian human rights activists - Issa Amro and Farid al-Atrash - currently on trial before an Israeli military court. Mr Amro and Mr Al-Atrash are being tried on charges relating to their involvement in protests, including one in February 2016 - the "Open Shuhada Street protest" - against restrictions placed by the Israeli military on the movement of Palestinians in the West Bank city of Hebron. Last month, Amro, a 37-year-old coordinator with the Youth Against Settlements group, was also arrested by the Palestinian authorities and charged with alleged cybercrimes after writing about the arrest of a Palestinian journalist on Facebook. The Hebron case, being heard before the Ofer Military Court, began at the weekend and is set to continue on 5 November, the last day of Mr Netanyahu's UK visit.