Leading Palestinian activists defy Israeli military charges with speaking event in London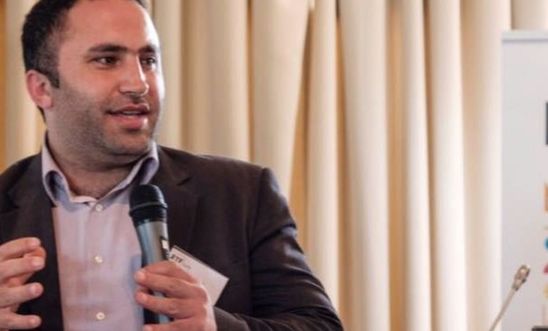 Issa Amro is one of the region's most prominent human rights activists © Amnesty International
Two leading Palestinian activists currently facing criminal charges for their peaceful protests against Israel's military occupation of Palestinian territory will be attending an event in London next week to discuss Israel's 50-year-long occupation. 
Issa Amro and Farid al-Atrash will join Baroness Tessa Blackstone at a joint Amnesty International and Palestine Solidarity Campaign event at Amnesty UK's east London headquarters on Monday 25 September. 
Mr Amro and Mr Al-Atrash are both facing charges related to their involvement in protests, including one in February 2016 - the "Shuhada Street protest" - against restrictions placed by the Israeli military on the movement of Palestinians in the West Bank city of Hebron.
Earlier this month, Amro, a 37-year-old coordinator with the Youth Against Settlements group, was arrested and charged with alleged cybercrimes after writing about the arrest of a Palestinian journalist on Facebook.  
The event, entitled "50 Years of Occupation - 50 Years of Repression of Peaceful Protest", is part of Amnesty's campaign to highlight human rights violations in the context of Israel's half-century of occupation of Palestinian territory. In June, Amnesty issued a call on all governments - including the UK - to ban the import of goods produced in the illegal Israeli settlements. 
Event details
What: panel discussion and audience Q&A
Who: 
Issa Amro - human rights activist and founder of Youth Against Settlements
Farid al-Atrash - human rights activist and lawyer
Baroness Tessa Blackstone - British peer and academic (Chair)
Hugh Lanning - Chair, Palestine Solidarity Campaign
Ashira Ramadan - Israel/Palestine Researcher, Amnesty International
Where: Human Rights Action Centre, Amnesty International UK, 17-25 New Inn Yard, London EC2A 3EA (Shoreditch)
When: Monday 25 September 2017, 7pm (doors open at 6.45pm)
Cost: free - though please reserve a place here.