UK should ban imports from illegal Israeli settlements - new campaign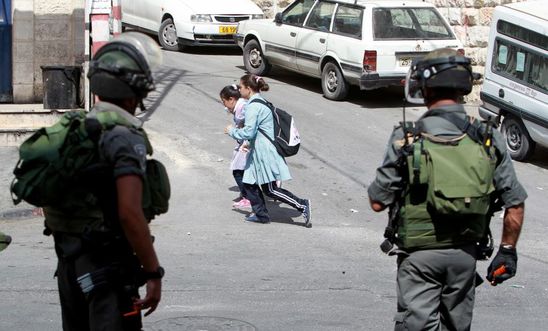 Palestinian territory has been under Israeli military occupation for half a century © MUSA AL-SHAER-AFP-Getty Images
New global campaign launched to coincide with 50th anniversary of Israel's occupation of West Bank and Gaza
'All settlement goods are tainted by illegality' - Kate Allen
13 June London event on the occupation with UN expert Michael Lynk
The UK should ban the import of all goods produced in illegal Israeli settlements and help put an end to the multimillion-pound profits that have fuelled mass human rights violations against Palestinians, said Amnesty International today.
To mark the 50th anniversary of Israel's occupation of the West Bank, including East Jerusalem, and the Gaza Strip, Amnesty is launching a new campaign calling on all countries to prohibit settlement goods from their markets and to prevent their companies from operating in settlements or trading in settlement goods. 
Hundreds of millions of pounds' worth of goods produced in Israeli settlements built on occupied Palestinian land are exported internationally each year, despite the fact that most countries around the world have officially condemned the settlements as illegal under international law. Israeli and international businesses have also enabled and facilitated settlement construction and expansion. 
In the UK, imported settlement goods include oranges, dates, spring water and halva desserts.
Amnesty is pointing out that all countries have a clear obligation to ensure respect for international humanitarian law and they should not recognise or assist in any manner the illegal situation that Israel's settlement policy has created - instead, they should use their influence to stop such violations. 
Kate Allen, Director of Amnesty International's United Kingdom Section, said:
"The UK should do the legally and morally right thing and introduce a ban on the import and sale of all goods produced in the Israeli settlements.

"For decades, Britain and the rest of the world has shamefully stood by as Israel has destroyed Palestinians' homes and plundered their land and natural resources for profit. 

"The Israeli settlements are illegal - by extension, all settlement goods are tainted by illegality. The UK should no longer be party to this."
Demolitions and land clearances
Israel's policy of settling Israeli civilians on occupied Palestinian land has led to a wide range of human rights violations. Tens of thousands of Palestinian homes and properties have been demolished by Israel, and hundreds of thousands of Palestinians have been forcibly displaced. Many families have been pushed out of their homes or off their land to clear areas for settlement construction. At least 100,000 hectares of Palestinian land have been appropriated for exclusive settlement use. 
Israel has also unlawfully seized control of Palestinian natural resources - such as water, fertile land, stone quarries and minerals - and diverted these to benefit settlement industries to produce agricultural products, construction materials and manufactured goods that are often exported abroad. At the same time, Israel has imposed arbitrary restrictions depriving Palestinians of access to and use of their own water, land and other resources, restricting their economic development and violating their economic and social rights. 
Meanwhile, across the West Bank, settlement infrastructure - including "settler-only" roads - have divided Palestinian towns and villages, and have severely limited the ability of Palestinians to move around freely. Israel has also maintained an illegal air, sea and land blockade of the Gaza Strip for nearly ten years, locking two million people into an area that is one of the most densely-populated territories on Earth.
UN resolutions
Over the decades, multiple UN resolutions have confirmed that Israeli settlements violate international law. Most recently, a UN resolution was passed in December 2016 calling on Israel to cease all settlement activities in the Occupied Palestinian Territories. The resolution also called on all countries to distinguish in all their dealings between the state of Israel and the territories occupied since 1967. Despite this, Israel has accelerated its expansion and support of settlements in recent months, announcing plans for thousands of new homes in existing settlements, as well as plans to build thousands more homes in two new settlements in the occupied West Bank.
Since the occupation first began in 1967, Israel has consolidated its repressive military rule of the Occupied Palestinian Territories through thousands of military orders. Many of them criminalise peaceful activities and place excessive restrictions on Palestinians, disrupting their daily lives. Military orders have also been used to provide cover for widespread violations of human rights and international humanitarian law, including the extensive appropriation of property and natural resources, the demolition of homes and businesses, arbitrary arrest and unlawful detention of hundreds of thousands of Palestinians, and the collective punishment of millions of Palestinians. There have also been scores of unlawful killings of Palestinians at the hands of Israeli forces over the years. 
UN expert event - London, 13 June
On 13 June, Amnesty International United Kingdom Section - along with Medical Aid for Palestinians and Lawyers for Palestinian Human Rights - will host an event with Michael Lynk, the UN Special Rapporteur for human rights in the occupied Palestinian territory, who will be in discussion with the distinguished human rights lawyer, Sir Geoffrey Bindman QC.