Palestine: cybercrime charge against prominent Hebron activist condemned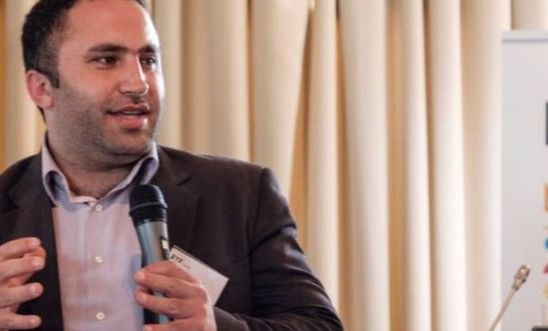 Issa Amro is one of the most prominent human rights activists in the region © Amnesty International
Issa Amro detained earlier this week after using Facebook to criticise arrest of radio journalist
'The fact that the Palestinian authorities are so quickly making use of the newly-adopted cybercrimes law to crush dissent is deeply disturbing' - Magdalena Mughrabi
The decision to charge Palestinian human rights activist Issa Amro using a controversial Electronic Crimes Law marks a dramatic escalation in the Palestinian authorities' attacks on freedom of expression, said Amnesty International today.
Issa Amro - a coordinator for Youth Against Settlements, a group documenting human rights violations and organising protests against Israeli policies in the city of Hebron in the Israeli-occupied Palestinian West Bank - was arrested earlier this week after he posted comments on Facebook critical of the Palestinian authorities.
In a closed hearing today, the Hebron district court extended his detention for four days and charged Mr Amro with disturbing "public order" under the recently-adopted Electronic Crimes Law, as well as "causing strife" and "insulting the higher authorities" under the 1960 Jordanian Penal code which is still in force in the West Bank. 
The head of the southern districts office of the Independent Commission for Human Rights, Farid al- Atrash, who was present at today's hearing, told Amnesty:
"This is dark day for the history of Palestinian justice, the court should have protected Issa's right to freedom of expression." 
According to Al- Atrash, Amro is being held in a tiny cell in very poor conditions. He went on hunger strike shortly after his arrest and is refusing to be examined by a doctor. At today's hearing Amro told the judge he'd been beaten, insulted and subjected to death threats during his interrogation. Meanwhile, Amro is also currently facing trial before an Israeli military court for his role in organising protests against Israeli discriminatory policies and settlements in Hebron.
Amnesty believes that the charges against Amro are baseless and stem solely from his peaceful activism.
Magdalena Mughrabi, Amnesty International's Middle East and North Africa Deputy Director, said:
"Today's decision to charge Issa Amro and extend his detention is an alarming development which demonstrates the lengths to which the Palestinian authorities are prepared to go to silence peaceful critics.

"The fact that the Palestinian authorities are so quickly making use of the newly-adopted cybercrimes law to crush dissent is deeply disturbing. 

"The Electronic Crimes Law blatantly flouts international law and violates the people's rights to privacy; it should be immediately repealed - not used to put peaceful critics behind bars.

"The fact that both the Israeli and Palestinian authorities are harassing Issa Amro in connection with his peaceful activism illustrates just how much the space for freedom of expression for human rights activists is shrinking - they are under attack from both sides."
Electronic Crimes Law 
In a recent letter responding to Amnesty's concerns about the Electronic Crimes Law, Palestinian Attorney General Ahmad Barak claimed the law would not be used to curb freedom of expression and that any criticism of the "Palestinian government, president, officials or political parties" would not be penalised under it. However, in recent weeks Amnesty has highlighted a chilling escalation in attacks on media and freedom of expression by both the Palestinian authorities in the West Bank and the Hamas de facto administration in Gaza, with the detention of a string of journalists and the forced closure of opposition websites.