Thailand: Rappers and peaceful activists arrested for pro-democracy protests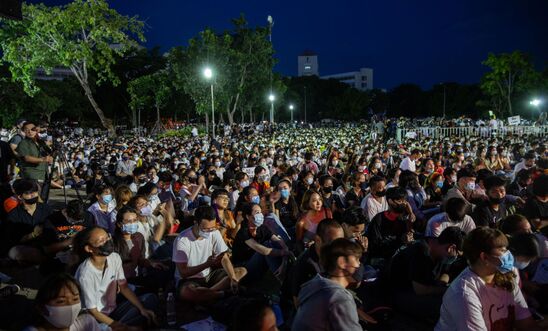 © Getty Images
Authorities in Thailand must stop their crackdown on peaceful pro-democracy protesters, Amnesty International said today, after a fresh wave of arrests.
Since the imposition of the Emergency Decree on 26 March, Thai officials have increasingly initiated criminal complaints against people who took part in peaceful protests and activities.
Demonstrators have also reported being subject to intensifying harassment and intimidation by police officers in recent months, solely for their involvement in peaceful demonstrations.
This morning, eight activists were arrested, including Dechathorn 'Hockey' Bumrungmuang (member of rap group Rap Against Dictatorship), Thanayuth 'Book' na Ayutthaya (member of rap group Eleven Finger) and Todsapon Sinsomboon (student member of the Free Youth Movement).
All those arrested today were charged in relation to their alleged participation in Free Youth Movement's pro-democracy protest on 18 July, which listed three demands from the government: parliament dissolution, a new constitution, and an end to harassment against individuals. All have been released on bail with conditions not to carry out the same alleged acts.
Ming Yu Hah, Amnesty International's South East Asia Deputy Director for Campaigns, said:
"Authorities are weaponising the law to silence people who peacefully criticise the government. These charges are clearly designed to intimidate people who are taking to the streets in ever-larger numbers.

"The authorities must drop these bogus charges against peaceful protesters. Freedom of expression and freedom of peaceful assembly are human rights, even if the government disagrees with the criticisms being levelled at them.

"It's high time the authorities constructively engage with these mass mobilisations, instead of bandying threats and hoping these thousands of people will be scared away from future rallies."
Lawyer arrested after Harry Potter-themed rally
Separately, lawyer Arnon Nampa was arrested again by police from Chanasongkram police station last night for a Harry Potter-themed rally held on 3 August.
Amon was brought to the Criminal Court to file for pre-trial detention, but was later granted bail with conditions not to carry out the same alleged acts. Arnon was charged with sedition under Article 116 of the Penal Code, offences under the repressive Public Assembly Act, the Sound Amplifier Act, and the vague and broadly-worded Computer Crime Act.