Syria: new testimonies from families of the 'disappeared' to mark Day of the Disappeared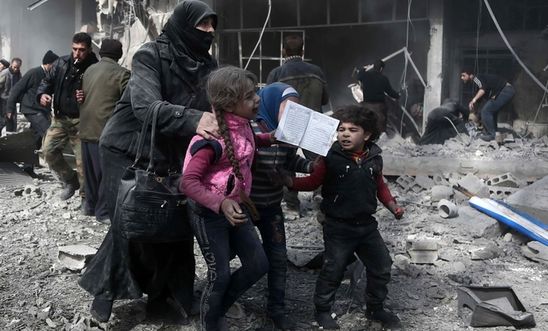 Syrian families have been torn apart by bombing, forced conscription and thousands of disappearances © ABDULMONAM EASSA/AFP/Getty Images
Some 100,000 people detained, abducted or 'missing' since 2011 - with 90,000 of these disappeared by government forces
Relatives in Lebanon and Turkey speak of agony of trying to locate missing loved ones 
International Day of the Disappeared marked on 30 August
The families of tens of thousands of people forcibly disappeared or abducted in Syria since 2011 have suffered years of agony in the face of blanket government denials and a lack of support from the international community, Amnesty International said today, which is International Day of the Disappeared.
According to the UN, around 100,000 people have been detained, abducted or gone missing in Syria in the past eight years. At least 90,000 of these are believed to have been forcibly disappeared by government forces, according to the Syrian Network for Human Rights.
Amnesty is calling for unified international action to support the families who have spent years searching for their loved ones - often at great risk - in addition to coping with the impact of the disappearance. Amnesty considers that enforced disappearances in Syria since 2011 have been committed as part of a widespread as well as systematic attack against the civilian population and, therefore, amount to crimes against humanity.
Those forcibly disappeared include peaceful opponents of the government including demonstrators, human rights activists, journalists, doctors and humanitarian workers. Others were targeted because they were perceived to be disloyal to the government or because they had relatives wanted by the authorities. Armed opposition groups have also abducted civilians, including human rights defenders, many of whom are still missing. 
The Syrian government and armed opposition groups have a responsibility to take all feasible measures to account for persons reported missing as a result of the armed conflict, and must provide families with any information they have as to the fate and whereabouts of their loved ones.
Lynn Maalouf, Amnesty International's Middle East Research Director, said:
"The families of Syria's disappeared have been left alone to search for their relatives and often at great personal risk. 

"Eight years into the crisis, the Syrian government, armed opposition groups and the states with most influence over them - Russia, Turkey and Iran - have failed the relatives of the disappeared and missing who have been struggling for years to know whether their loved ones are alive or dead.

"We are calling on them to use their influence in Syria to enable, at the bare minimum, the creation of a central Information Bureau tasked to search, investigate and identify the fate and location of the disappeared in Syria." 
24 relatives spoke to Amnesty 
Amnesty interviewed 24 relatives of disappeared people who have themselves sought refuge in Lebanon and Turkey, or are displaced inside Syria. Each recounted the profound emotional and psychological consequences of living in enduring uncertainty, compounding the devastating economic impact. 
*Sawsan, a refugee and mother of four living in Lebanon, told Amnesty that her husband from Daraya was arbitrarily detained by immigration and passport control security forces at the Syrian border with Lebanon for unknown reasons. He has been disappeared since June 2014. They were planning to leave Syria and enter Lebanon after their daughter died from a chronic liver disease. She said: 
"My daughter died three months before her father was detained. He was heartbroken for her. Now we are heartbroken for him. The UN suspended aid for us two years ago, just like that they stopped without asking a question. They know that I have three children who need medication [to treat the same disease her daughter died of]. I want to go back to Syria where things are cheaper, and I can stay with relatives, but they [Syrian government] will take my sons from me even if they are sick and not fit for military service. They don't care."
*Fida, a mother of three sons and a daughter from Western Ghouta, told Amnesty that her son and husband were arrested in 2014 and have been missing since, and her second son went missing since 2018.
In January 2014, the Syrian government announced it had reached an agreement with armed groups in Western Ghouta, which had been besieged until then, and that civilians would be allowed to leave the area. But as they were attempting to leave, both Fida's husband and son were detained by Syrian security forces at a checkpoint in Sayyeda Zaynab, east of Damascus. 
Fida's second son remained in the area which the Syrian government kept under siege until it recovered control over it in May 2018 following a so-called "reconciliation" agreement with armed opposition groups. The young man obtained a security clearance, but he was nonetheless arrested and subsequently disappeared. Fida and her family have searched for all their relatives at several security branches, but these denied holding them. She has not seen or heard anything about her two sons and husband since their disappearance. She told Amnesty she is afraid that if she returns from Lebanon, where she sought refuge in 2014, the Syrian authorities would also take her [third] son. 
*Fatma, a Syrian refugee living in Turkey, told Amnesty that her husband (a dentist in Aleppo) was detained on 1 December 2012 at a checkpoint manned by the military security branch, based on information from witnesses who were with her husband in a taxi. She searched for him at the military security branch in Aleppo, but they denied holding him. His family paid a large sum of money to several intermediaries, who turned out to be frauds. She said: 
"My biggest pain is not knowing anything about my husband. If I knew he were dead, it would be better than the misery of not knowing anything. My four children are suffering as well. They keep asking me if their father will ever come back and I do not know what to tell them. I am carrying the burden of the war, the burden of my husband's disappearance, and the burden of my children, all alone." 
*Laila, a Syrian refugee from Damascus now living in Lebanon, described how her husband also disappeared at a checkpoint in 2014, while attempting to leave the besieged area in Western Ghouta. Before fleeing to Lebanon, Laila tried desperately to find her husband, but then stopped, fearing reprisals from security services. She said:
"My family don't have any money to help me. I rely on the UNHCR card for some humanitarian assistance. My house in Boueida was destroyed so I don't have a house to go back to. I am strong, but every day is a battle to survive. I hear people talking and saying things like 'She is alone, she doesn't have her husband with her'."
She also described the negative effect on her children: 
"Children need care and money. It is difficult for me to be their mother and father. It is not possible to be both because you can't fill all gaps. I sacrificed a lot."
Death certificates
The Syrian government has failed to disclose the names and location of people arbitrarily detained and disappeared by their security forces. Some families have been notified over the death of their relatives in detention, or were eventually able to find out that their loved one died in custody. Those who receive a death certificate - the only piece of "evidence" provided - are legally bound to then register the person's death in civil records, in order to obtain an official death certificate.
Amnesty reviewed copies of two death certificates which include the name of the deceased, information about two witnesses confirming the death, and the cause of death, which usually is recorded as either "heart attack" or "brain stroke". The certificate is stamped by the hospital and signed by one or more official. 
In May 2018, the Syrian government issued official death notices concerning hundreds of people who had been subjected to enforced disappearance, without notifying their families or providing death certificates issued by a hospital or medical examiner. Amnesty reviewed copies of two official death notices issued by the civil registry in Damascus which show the name and national number of the deceased, name of father and mother, and their respective national numbers, date of birth, place of death, and date of death. Amnesty also interviewed four families who received written confirmation of the death of their disappeared relatives. 
*Samar told Amnesty that her nephew, who worked in a government institution in Damascus, was arbitrarily detained in a raid by military intelligence security forces in mid-2015 and subsequently disappeared. She said: 
"He has two daughters. My sister and his wife searched for him everywhere but they all denied having him. She went several times to the military court and military police, but his name was not in the system [of people who died]. Last year, his mother went to the civil registry to get a family certificate to register his children in school. Just like that, she saw that his status was changed to 'Deceased'."
The certificate said that he died in June 2016 [exact date withheld for security reasons].
The lack of credible information means that even families who did obtain a death certificate from a hospital or from public records often have found it difficult to believe or accept the death of their loved one, without any further evidence, including seeing the body. The obligation to then register their relatives as dead, without having this conviction or evidence, is an added layer of cruelty for the families. 
*Wafa, a Syrian refugee living in Lebanon, told Amnesty that her husband and son had disappeared in May 2012 and July 2012 respectively. The military police told her that both her son and husband had been killed, when she sought answers, but no other information was provided - and Wafa clings to the hope that they are still alive.
*Names have been changed to protect identities.