Syria: 'beyond cynical' of Putin to focus on Raqqa deaths in Fox News interview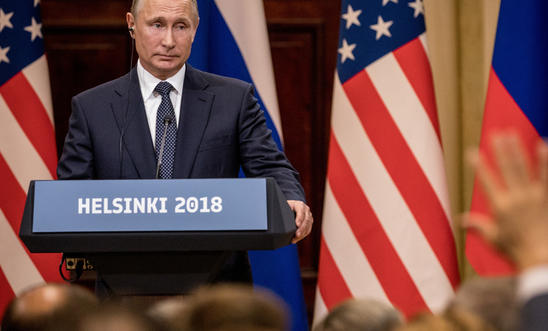 President Putin spoke to Fox News after the Helsinki Summit yesterday © Getty Images
'Russia has been instrumental in obstructing accountability for such crimes' - Lynn Maalouf
Responding to a Vladimir Putin interview on Fox News yesterday in which the Russian president sought to turn attention away from civilian casualties caused by Russian attacks in Syria, to focus on the high civilian death toll from the US-led Coalition's aerial bombardment of Raqqa, Lynn Maalouf, Amnesty International's Middle East Research Director, said:
"It's beyond cynical for President Putin to use civilian deaths in Raqqa to deflect attention from Russia's own role in horrific violations contributing to the deaths of tens of thousands of civilians and the displacement of millions during Syria's war. 

"Amnesty International has repeatedly documented both Russian and Syrian forces committing widespread and egregious violations of international humanitarian law, many amounting to war crimes, including bombing hospitals and using internationally-banned cluster munitions. 

"And, of course, Russia has been instrumental in obstructing accountability for such crimes and in hampering independent investigations into chemical weapons attacks.

"The US-led Coalition should absolutely face heightened scrutiny for its conduct in last year's four-month Raqqa offensive. 

"Our field investigations in the bombed-out city revealed hundreds of civilians were killed and thousands injured in the battle to oust the armed group calling itself Islamic State. 

"The Coalition must own up to its record on civilian casualties and pave the way for meaningful investigations and reparations - unless it learns from its mistakes, it will be doomed to repeat them.

"President Putin's deflections will do nothing to save lives in Syria. What could prevent more civilian bloodshed is for Russian forces and authorities to abide by the rules of war, ensure humanitarian access to civilians in need, and stop hampering international efforts to investigate and prosecute crimes under international law."
Coalition 'deeply in denial'
Earlier today, Amnesty accused the US-led Coalition of being "deeply in denial" over the number of civilians killed and injured by its aerial bombardment of Raqqa. Earlier this month, UK Defence Secretary Gavin Williamson, speaking in the House of Commons, called Amnesty's report into the assault on Raqqa "deeply disappointing and disgraceful".