Southern Africa: Government intervention urgently required as millions face hunger under COVID-19 lockdowns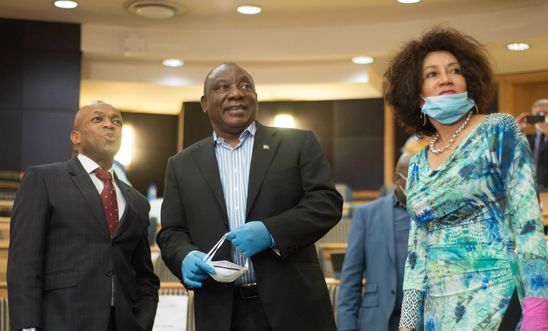 President Ramphosa and Lindiwe Sisulu (Minister of Human Settlements, Water & Sanitation) visits the Human Settlements, Water and Sanitation COVID-19 Command Centre © Physion
Millions of people across Southern Africa face desperate situation as lockdowns prevent them from earning money and buying food
'Without government support, the lockdown could become a matter of life and death for those living in poverty' - Deprose Muchena
Millions of people across Southern Africa face hunger as lockdowns imposed to help curb the spread of COVID-19 mean they are unable to access food, Amnesty International said today. 
The organisation is calling on governments to urgently put social protection measures in place to uphold the right to food. 
Deprose Muchena, Amnesty International's Director for East and Southern Africa, said:
"With inequality and unemployment so high across Southern Africa, the majority of people live hand-to-mouth – they cannot afford to remain in lockdown for a week, let alone for a month.

"Measures put in place across the region intended to lessen the catastrophic consequences of COVID-19 must be accompanied with social protection for those living in poverty and facing unemployment. Governments cannot criminalise those leaving their homes to look for food or because they need to work in order to make a basic livelihood.

"Without government support, the lockdown could become a matter of life and death for those living in poverty."
The vast majority of people in Southern Africa make their living in the informal economy, as street vendors or manual labourers. Under current lockdown guidelines, these roles are considered "non-essential" and consequently, many no longer have the means to purchase food. 
Unlawful use of force  
Across the region, police and soldiers have been deployed to monitor people's movements and ensure they comply with government measures. 
However, it has been widely documented that security personnel are using disproportionate force to deal with people allegedly breaching measures, beating and humiliating them in public. In some instances, police have even been accused of entering people's homes and assaulting them.
In Zambia, police were seen to be indiscriminately attacking people on the streets. National police spokesperson Esther Katongo said in a television interview that police in Zambia had adopted a strategy to "hit and detain" anyone found on the streets. In one interview she said: "We hammer you, we hit you, then we do detention. If you escape, you are lucky."
In Zimbabwe, police officers raided a vegetable market, forcing more than 300 vendors to flee and leave behind their produce. Police carried out the raid despite the agriculture sector being flagged as an "essential service" during the 21-day lockdown. Police later disposed of the food and vendors are yet to be compensated. 
In Mozambique, a local television station has accused police of taking advantage of the lockdown to raid vendors' shops and steal their goods. 
Women, children and vulnerable under threat
Media reports across Southern Africa have highlighted the problems that lockdown measures have created for those living in poverty. Women, children and other vulnerable groups such as those with disabilities are especially impacted.
In Alexandra, a township north of Johannesburg, residents queued after they were promised food by a number of charities earlier this month. Some of the residents told a local news station that they fear dying of hunger more than COVID-19. One woman said: "We want to eat. We are hungry. The corona [lockdown] must be suspended. We want to go back to work. We sell tomatoes and potatoes [on the streets], now we cannot sell and we are unable to make a living. We want food, we want to eat."