Saudi Arabia: prominent lawyer on hunger strike over prison mistreatment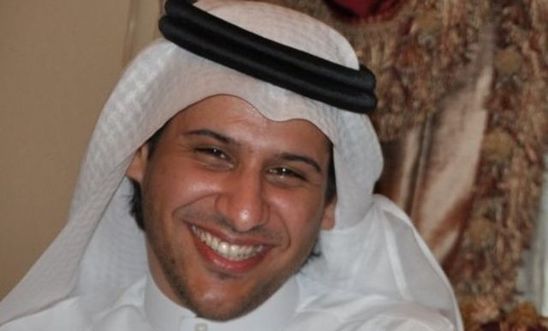 Waleed Abu al-Khair has been in jail since April 2014 © Private
Waleed Abu al-Khair, lawyer for jailed blogger Raif Badawi, in solitary confinement and at risk of torture
Latest evidence of escalating crackdown, as high-profile Anthony Joshua boxing match shines spotlight on country's human rights record
'The fact that Waleed Abu al-Khair is in prison to begin with, let alone serving a 15-year prison sentence, is outrageous' - Lynn Maalouf
Amnesty International is calling on the Saudi Arabian authorities to end the mistreatment in prison of the prominent lawyer Waleed Abu al-Khair, who recently began a hunger strike in protest at his ill-treatment.  
Amnesty has received credible reports that the prison authorities at Dhahban Prison near Jeddah placed the lawyer in solitary confinement and under tightened security on 26 November. 
For the past week, Waleed Abu al-Khair has been held incommunicado, putting him at heightened risk of torture and other ill-treatment.
Waleed Abu al-Khair who has previously represented numerous victims of human rights violations in Saudi Arabia, including Raif Badawi, a well-known blogger who was given a ten-year jail sentence and 1,000 lashes in 2014. 
In 2014, Waleed Abu al-Khair was himself arrested and sentenced to 15 years in prison, followed by a 15-year travel ban, on charges which included "disobeying the ruler and seeking to remove his legitimacy", "insulting the judiciary and questioning the integrity of judges", "setting up an unlicensed organisation", "harming the reputation of the state by communicating with international organisations", and "preparing, storing and sending information that harms public order".
He has been on hunger strike since 29 November in protest at his current ill-treatment. Amnesty considers Waleed Abu al-Khair a prisoner of conscience, and has repeatedly called for him to be released immediately and unconditionally. 
Lynn Maalouf, Amnesty International's Middle East Research Director, said:
"We call on the Saudi Arabian authorities to ensure that Waleed Abu al-Khair is protected from torture or other ill-treatment. 

"They must allow him to contact his lawyer and family, and provide him with access to medical care he may require without delay. 
 
"The fact that Waleed Abu al-Khair is in prison to begin with, let alone serving a 15-year prison sentence, is outrageous. 

"He was imprisoned under bogus terrorism-related charges simply for exercising his rights to freedom of expression and defending human rights. He is one amongst scores of Saudi women and men being punished for standing up for their fellow citizens' rights.

"We continue to call for the immediate and unconditional release of Waleed Abu al-Khair and all other prisoners of conscience currently behind bars in Saudi prisons."
Anthony Joshua v Andy Ruiz Jr boxing match
Ahead of a much-publicised heavyweight boxing match being held in the Saudi Arabian capital Riyadh tomorrow evening between the British boxer Anthony Joshua and the Mexican-American Andy Ruiz Jr, Amnesty has expressed concern that the event is part of a drive from the Saudi authorities to "sportswash" the country's human rights record. 
Felix Jakens, Amnesty International UK's Head of Campaigns, said:
 
"When this fight was first announced we said Anthony Joshua would be well advised to inform himself of the human rights situation in Saudi Arabia and be ready to speak out.
 
"The Joshua-Ruiz bout is part of an intensified effort by the Saudi authorities to try to 'sportswash' the country's heavily-tarnished image.
 
"Despite the hype over supposed reforms, Saudi Arabia is in the midst of a sweeping human rights crackdown, with women's rights activists, lawyers and members of the Shia minority community all being targeted. 
 
"There's still been no justice over the gruesome murder of Jamal Khashoggi, and the Saudi-led military coalition in Yemen is now in its fifth year of indiscriminate attacks on homes, hospitals and market-places. 
 
"As Eddie Hearn and the whole Joshua team must know, when major sporting stars like Anthony agree to go to Saudi Arabia it's a PR moment for the host country, but also an opportunity for competitors to redress the balance a little.
 
"If Anthony Joshua were to say something about the outrageous jailing of the Saudi women's rights activist Loujain al-Hathloul, for example, this would be an important reminder to the authorities that their crackdown isn't going unnoticed."