Saudi Arabia: 'heartbreaking' two-year anniversary of jailed women's rights activists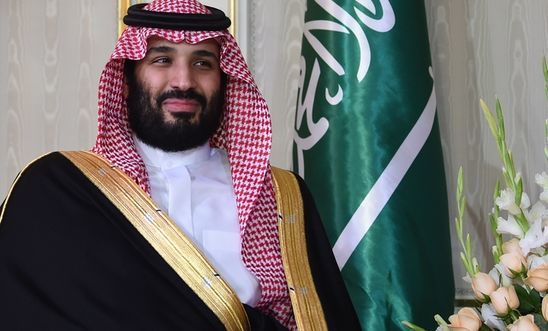 Mohammed bin Salman could become the effective owner of Newcastle United football club © AFP/Getty Images
Right-to-drive campaigner Loujain Al-Hathloul and four other activists currently in jail - eight others also on trial
At least ten of the activists tortured in detention
Anniversary comes as Saudi buyout of Newcastle Utd is examined by Premier League
'Premier League decision-makers need to have the plight of jailed Saudi women's rights activists right at the forefront of their minds when they're assessing the Newcastle deal' - Kate Allen 
Amnesty International has called on Saudi Arabia's King Salman bin Abdulaziz to release prominent women's rights defenders - two years after they were detained - describing their ongoing plight as "heartbreaking". 
The call comes at a time of heightened interest in Saudi Arabia's human rights record in relation to a possible purchase of Newcastle United football club by a consortium of buyers including Saudi Arabia's Public Investment Fund.
On 15 May 2018, several high-profile Saudi women's human rights activists were arrested. For many years, they had been peacefully campaigning for the right of women in Saudi Arabia to drive, as well as broader reforms related to the country's repressive male guardianship system. 
In the following days and weeks, more of their fellow peaceful activists were detained as part of the Saudi authorities' crackdown, which also included a smear campaign against them in state media.
Currently, 13 women's rights activists are on trial for their human rights activism. Of the 13, five remain in detention: Loujain al-Hathloul, Samar Badawi, Nassima al-Sada, Nouf Abdulaziz and Maya'a al-Zahrani. 
Eight other activists have been temporarily released, though they all face trial and many remain at risk of being jailed under anti-cybercrime legislation for their human rights work. These eight are: Iman al-Nafjan, Aziza al-Yousef, Amal al-Harbi, Dr Ruqayyah al-Mharib, Shadan al-Anezi, Dr. Abir Namankni, Dr Hatoon al-Fassi, and an anonymous activist.
At least ten activists have endured a range of human rights violations while in prison, including torture, sexual abuse and other forms of ill-treatment. For the first three months of their detention, the women were held incommunicado - with no access to family or lawyers. Several have also been subjected to lengthy spells in solitary confinement. 
Amnesty is calling on Saudi Arabia to immediately and unconditionally release all prisoners of conscience and human rights defenders detained for their peaceful campaigning.
Lynn Maalouf, Amnesty International's Middle East Research Director, said:
"It is heartbreaking that two years have now passed with these brave women still behind bars.

"In prison, many suffered mental and physical anguish - including torture, sexual abuse and solitary confinement. Scores of others, though released, still face trial based on charges relating to their peaceful activism."
Possible buyout of Newcastle United 
The anniversary of the start of the crackdown on women rights defenders in Saudi Arabia comes at a time when the country's human rights record has been the subject of heightened interest in relation to a possible purchase of Newcastle United football club by a consortium of buyers including Saudi Arabia's Public Investment Fund.
Amnesty has written to the Chief Executive of the football Premier League, Richard Masters, warning that the proposed deal is part of Saudi Arabia's ongoing efforts to "sportswash" its human rights record, with investment in the glamour and prestige of top-level sport being used as a way to "rebrand" the country and deflect attention away from human rights issues. 
Warning that the Premier League risks "becoming a patsy" of these sportswashing efforts unless it fully considers the human rights situation in Saudi Arabia as part of the Premier League's owners' and directors' test, Amnesty has urged the Premier League to make a statement over how it is assessing Saudi Arabia's human rights record under Mohammed bin Salman as part of its determination of the Newcastle deal.
Kate Allen, Amnesty International UK Director, said:
"Premier League decision-makers need to have the plight of jailed Saudi women's rights activists right at the forefront of their minds when they're assessing the Newcastle deal. 

"Jail and torture are the deeply unhappy lot of peaceful activists in Saudi Arabia - and the Premier League needs to face this fact square in the face.

"Of course, English football isn't responsible for combating Saudi Arabia's abysmal human rights record - but neither should it be naïve over how sportswashing works."