Russia: legal challenge to 'intrusive' facial recognition technology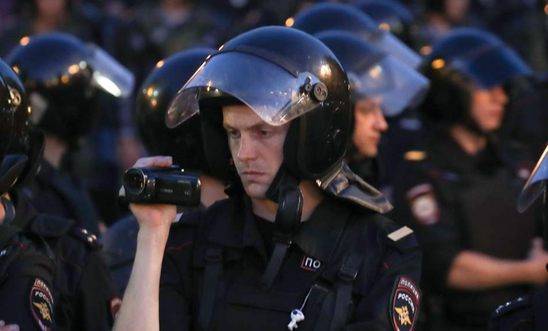 The authorities have been stepping up surveillance as an apparent attempt to suppress peaceful protests © Valery Sharifulin/TASS
Civil rights activist and politician bring case citing threats to right to protest
Authorities planning facial recognition system for entire Moscow Metro
'It is a tool which is likely to take reprisals against peaceful protest to an entirely new level' - Natalia Zviagina
The Russian authorities must halt plans to broaden the use of facial recognition systems, Amnesty International said, as a court in Moscow considers a challenge today against the use of such technologies. 
A large-scale facial recognition system covering the whole Moscow Metro transportation network is set to be fully operative by 1 September.
Today, the Tverskoy District Court of Moscow is hearing a complaint submitted by the civil rights activist Alyona Popova and the politician Vladimir Milov. They argue that data collection about participants at lawful public gatherings results in the violation of their right to freedom of peaceful assembly. 
Popova and Milov are asking the court to prohibit the use of facial recognition technology at rallies and delete all stored personal data previously collected. 
Last November, the Savelovsky District Court of Moscow refused to examine Popova's claims that her right to privacy were undermined by the establishment of Moscow's video surveillance system. 
Given the significant risk to human rights posed by this technology - including the right to privacy, equality and non-discrimination, freedom of expression, association and peaceful assembly - Amnesty believes there can be no place for facial recognition technology in law enforcement until governments and manufacturers demonstrate that the technology complies with international human rights law.
Natalia Zviagina, Amnesty International Russia's Director, said: 
"Facial recognition technology is by its nature deeply intrusive, as it enables the widespread and bulk monitoring, collection, storage and analysis of sensitive personal data without individualised reasonable suspicion.

"In the hands of Russia's already very abusive authorities, and in the total absence of transparency and accountability for such systems, it is a tool which is likely to take reprisals against peaceful protest to an entirely new level.

"It is telling that the Russian government has provided no explanation as to how it will ensure the right to privacy and other human rights, nor has it addressed the need for public oversight of such powerful technologies.

"The authorities' response to last summer's peaceful protests has demonstrated a clear desire to use profiling and surveillance against the government's critics. 

"The deployment of facial recognition systems during public assemblies - which all available evidence suggests is its primary purpose - will inevitably have a chilling effect on protesters."