Nicaragua: New evidence reveals enforced disappearances by Ortega's government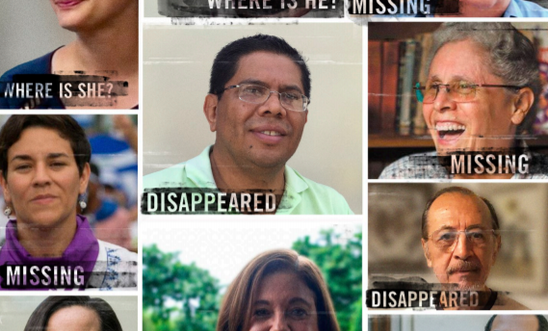 Nicaraguan authorities have continued their brazen attack on human rights defenders with a series of enforced disappearances
Ten cases of enforced disappearances documented in latest wave of detentions
Families rely on scraps of information from police officers to piece together where loves ones are held
'We live in a prison called Nicaragua' - family member of Dora María Téllez
The Nicaraguan authorities have continued their brazen attack on human rights defenders with a series of enforced disappearances, Amnesty International said in a new report released today.
The repressive actions of President Ortega's government have led to more than a hundred people being deprived of their liberty, with many of those held in undisclosed locations in circumstances amounting to enforced disappearance.
Amnesty's 29-page report - Where are they? Enforced Disappearance as a Strategy of Repression in Nicaragua - documents the cases of ten people "disappeared" for their activism or for exercising their right to freedom.
The ten cases are: Daysi Tamara Dávila, Miguel Mendoza, José Pallais, Suyen Barahona, Víctor Hugo Tinoco, Félix Maradiaga, Ana Margarita Vijil, Violeta Granera, Jorge Hugo Torres and Dora María Téllez.
The families and legal representatives of the ten detainees have submitted more than 40 applications, petitions and appeals to different authorities requesting access to their files, medical examinations for the detainees, interviews with their lawyers, family visits, and immediate release, among other requests. In most cases these appeals have been left unanswered by the authorities.
The daughter of Victor Hugo Tinoco, who is suffering from cancer as she attempts to discover the whereabouts of her detained father, said:
"If I am dying and at death's door, please let me see my father, let him say goodbye to me."
In the cases documented by Amnesty, the authorities had not officially disclosed the exact location of the detainees - a requirement under international law. In most cases, the only information received about their possible location has been provided verbally by police officers at the gate of the Judicial Assistance Directorate Evaristo Vasquez Police Complex (known as Nuevo Chipote), after family members insisted. However, police officers at entrances do not provide official or confirmed information.
A family member of Dora María Téllez told Amnesty:
"Since they took her away, we have had no news of her, other than speculation. As if their word were a certificate of existence."
Another family member of Doria's said:
"We live in a prison called Nicaragua".
Statements issued by the Public Prosecutor's Office and the National Police have acknowledged the detentions but do not specify where people are being held. Furthermore, the families have not been able to visit the detainees, their legal teams have not had access to them, and the judicial authorities have not responded to calls to authorise the entry of family members and lawyers.
A human rights crisis in Nicaragua has continued unabated for the past three years, with the harassment and detention of people identified as opponents of Ortega's government, human rights defenders, journalists, victims of human rights violations and their families.
Erika Guevara-Rosas, Amnesty International's Americas Director, said:
"Daniel Ortega's government is clearly silencing those who speak out, but it also shows his fear of criticism by disappearing opponents, activists and journalists.

"This week will mark 90 days since the most recent detentions began, but the authorities continue to refuse to provide official information on the whereabouts and conditions of detention.

"The families deserve to know if their loved ones are alive and where they are being held. The anguish they're experiencing is yet another form of punishment.

"We demand that Daniel Ortega's government immediately release all those detained for exercising their rights."
Enforced disappearance is a crime under international law and one of the most serious human rights violations. Amnesty is calling for an immediate end to the harassment and intimidation of critics or people perceived as opponents. The government must also end the arbitrary detentions and immediately release those detained solely for exercising their rights and put an end to the practice of enforced disappearance and make reparation to the victims - including the families of the disappeared.
The investigation
Between 28 May and 2 August this year, more than 30 people were deprived of their liberty, adding to the more than 100 people who were already in prison for exercising their human rights.
Amnesty examined copies of available official documentation related to the cases of ten people detained. Interviews were conducted with people from their immediate circles and legal advisers with knowledge of the cases; documentation issued by international organisations and media reports were also consulted.