Nicaragua: Fears of deepening human rights crisis as Ortega announces new presidential bid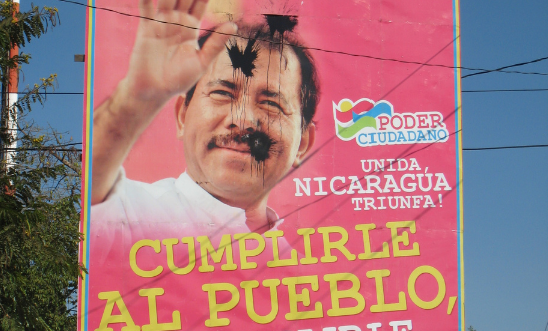 Paint-bombed government poster on a street in Managua. © Amnesty International
Daniel Ortega seeking fourth presidential term in November election
More than 100,000 people have already fled country
'Ortega holds a position in which he will be protected from any investigation against him' - Erika Guevara-Rosas
Amnesty International has reiterated its call for an end to human rights violations in Nicaragua after President Daniel Ortega announced he will stand for a fourth consecutive term in the county's November's election.
President Ortega's announcement that he will stand as a candidate for the ruling Sandinista National Liberation Front comes during a rolling three-year human rights crisis in the country, a crisis which has recently intensified.
In recent months, the Nicaraguan authorities have arrested at least 20 people, including presidential candidates, student leaders, political activists and campesino (peasant farmer) representatives, while detaining more than 100 protesters.
The authorities also continue to harass human rights defenders and journalists. In total, more than 100,000 people have fled the country, many fearing for their lives.
During this time, Ortega has used judicial and legislative bodies to repressive effect, and powerful individuals accused of committing crimes under international law have successfully evaded justice.
Erika Guevara-Rosas, Amnesty International's Americas Director, said:
"Thousands of victims of human rights violations continue to await justice for crimes committed by the Nicaraguan authorities under Daniel Ortega's rule.

"Currently no-one accused of committing crimes under international law is under investigation and as it stands, Ortega holds a position in which he will be protected from any investigation against him.

"To put an end to the crisis, human rights violations must be stopped, those identified as suspects must be investigated impartially and promptly, and the victims must obtain truth, justice and reparations."