New FIFA report 'should be a wake-up call' on World Cup worker abuse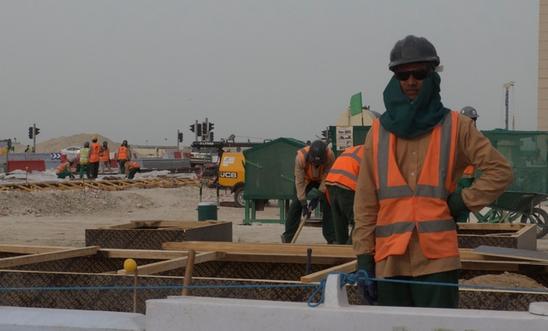 Qatar is heavily reliant on overseas migrant workers, many of whom work in dangerous conditions with few rights © Amnesty International
'This is FIFA's own independent human rights advisory board telling it to take a clear position on Qatar's laws' - James Lynch
The world football body FIFA should act immediately on a series of recommendations made today in the first report published by its Human Rights Advisory Board, said Amnesty International.
The report, which assess FIFA's progress on addressing human rights risks related to its operations, welcomes developments such as the organisation's adoption of a new human rights policy, but makes clear the board's concern about the well-documented risks to workers in both Russia and Qatar.
The report includes a range of important recommendations, including that FIFA should in future: reduce the use of subcontractors in World Cup construction programmes; make sure that migrant workers do not pay recruitment fees; and seek justice and compensation for workers harmed in connection with the Russia and Qatar World Cup construction programmes.
On Qatar, the board calls on FIFA to make public its position and to use its influence with the Qatari government on the notorious "kafala" sponsorship system, echoing calls made by Amnesty and other groups for several years. The report notes that FIFA's responsibilities should go beyond just stadium construction to include the wider infrastructure necessary for the 2022 World Cup to take place. The board also demands more detailed information about "non-work-related deaths" connected to the tournament.
Last month Qatar announced plans to carry out a series of labour reforms, supported by the UN International Labour Organisation, which are welcome in principle. However, it remains unclear exactly how and when they will reform the kafala sponsorship system.
James Lynch, Amnesty International's Deputy Director of Global Issues, said:
"This report should be a wake-up call for FIFA, which has held back from using its considerable leverage with regard to Qatar's abusive sponsorship system.

"This is FIFA's own independent human rights advisory board telling it to take a clear position on Qatar's laws, and to act on that. That work should start urgently - there can be no excuse for any lag.

"FIFA's pressure and scrutiny will be essential to ensuring that promises made by the Qatari government to the International Labour Organisation are delivered on in full.

"We would like to see some clearer language around key issues, like the exit permit and deaths of migrant workers. The board's next report needs to be far more explicit on FIFA's responsibilities around these issues.

"FIFA has moved some distance from its position in 2013 and 2014 when its leadership suggested that human rights were not its responsibility. It is welcome that it has now articulated clearly that it will respect all recognised human rights, and that countries bidding for the World Cup will have to demonstrate that too.

"However, the organisation cannot rest on its laurels - delivery against these policies will be what FIFA is judged on."
Report stops short on key areas
FIFA has this year taken a series of institutional steps around human rights, including the publication of a human rights policy and the development of new bidding and hosting guidelines for future World Cups. 
However, Amnesty is pointing out that the Human Rights Advisory Board report omits some key issues related to the Qatar 2022 World Cup. It does not call for FIFA to press Qatar to investigate the deaths of migrant workers or to abolish the country's abusive exit permit system, something Amnesty and Human Rights Watch have repeatedly called for.
In 2016, Amnesty published research into abuse of migrant workers at a World Cup stadium in Qatar. Earlier this year, Human Rights Watch published a report detailing conditions for workers constructing World Cup stadiums in Russia.
Human Rights Advisory Board 
The FIFA Human Rights Advisory Board is composed of representatives of international organisations, human rights groups and trade unions.