Nazanin Zaghari-Ratcliffe: prison authorities' reprisals against her are 'disgraceful'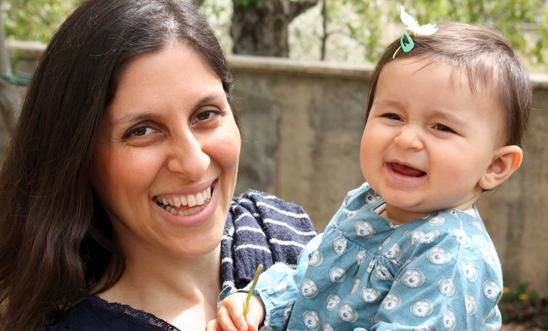 Nazanin Zaghari-Ratcliffe: prisons authorities' reprisals against her are 'disgraceful' © Private
Responding to reports that the Iranian prison authorities have prevented the jailed UK charity worker Nazanin Zaghari-Ratcliffe from having a regular telephone call with her husband Richard after an announcement that she and fellow detainee Narges Mohammadi would begin a hunger strike protest against their imprisonment next week, Kate Allen, Amnesty International UK's Director, said:
"It's utterly disgraceful that the Iranian authorities are heaping more punishment on Nazanin and Narges like this. 

"Rather than subjecting Nazanin and Narges to reprisals for their hunger strike, the Iranian authorities must release these prisoners of conscience immediately and unconditionally.

"Their hunger strike is a desperate protest against repeatedly being denied the medical care they require. 

"Instead of playing sinister games with Nazanin and Narges' health, the Iranian authorities should immediately provide them with all the medical care they need pending their release."
Last week Nazanin Zaghari-Ratcliffe and Narges Mohammadi announced they would begin a three-day hunger strike on 14 January in protest at a denial of medical care in detention. Amnesty has previously documented a pattern of the Iranian prison authorities deliberately denying medical care to high-profile or political prisoners. 
Charity worker
Nazanin Zaghari-Ratcliffe, a British-Iranian dual-national, was arrested at Tehran's Imam Khomeini airport on 3 April 2016 prior to boarding a plane back to the UK after a regular family visit to the country with her infant daughter Gabriella. After being detained in solitary confinement without access to a lawyer, Zaghari-Ratcliffe was sentenced to five years in prison in September 2016 after being convicted of "membership of an illegal group" in a grossly unfair trial by a Revolutionary Court in Tehran. The conviction was in connection with her employment at Thomson Reuters Foundation, a charity promoting socio-economic progress, independent journalism and the rule of law, as well as her past work as an administrative assistant with BBC Media Action. The sentence was upheld on appeal the following year and her subsequent request for judicial review has been denied.
Zaghari-Ratcliffe recently completed her 1,000th day in detention, and three days prior to that she turned 40 in jail. More than 175,000 people have supported Amnesty's campaign for her release.
Distinguished human rights defender
Narges Mohammadi is a distinguished Iranian human rights defender who has been jailed several times for her peaceful human rights work in Iran. She is currently serving a 16-year jail sentence in relation to her campaigning against Iran's use of the death penalty and over communications she had with an EU official. Mohammadi suffers from several very serious health conditions, including a pulmonary embolism (a blood clot in her lungs) and a neurological disorder that results in seizures and temporary partial paralysis. She requires ongoing specialised medical care, which she cannot receive in prison.