Nazanin Zaghari-Ratcliffe: 1,000th day in detention is 'another depressing milestone'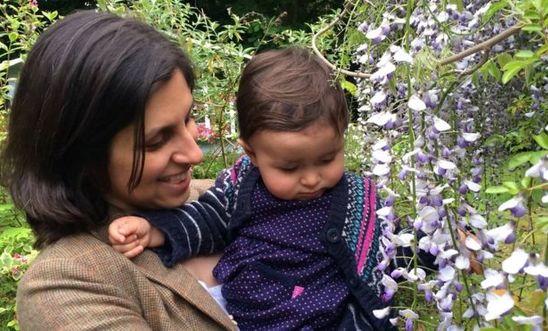 Nazanin Zaghari-Ratcliffe with her daughter Gabriella © Private
British mother has been in jail for more than two-and-a-half years after unfair trial
'The UK Government should continue to press for Nazanin's release using every channel of communication available to it' - Kate Allen
Amnesty International has described the British charity worker Nazanin Zaghari-Ratcliffe's 1,000th day in jail in Iran as a "another extremely depressing milestone". 
Ms Zaghari-Ratcliffe was arrested at a Tehran airport on 3 April 2016 and today (29 December) marks her 1,000th day in detention in the country. 
Three days ago, the London mother turned 40 and Amnesty marked the occasion by reaffirming a commitment to continue campaigning for Zaghari-Ratcliffe's freedom for "as long as the family need us to".
Amnesty has also called on the UK Government to use "every channel of communication available to it" in efforts to secure the Briton's release. During a visit to Iran last month, the Foreign Secretary Jeremy Hunt reportedly raised the prospect of a pardon for the jailed Briton.
Zaghari-Ratcliffe is serving a five-year jail sentence in Tehran's notorious Evin Prison after being convicted in 2016 in an unfair trial by a Revolutionary Court on unspecified "national security charges". Since being jailed, she has suffered a serious decline in her physical and mental health, something her husband - Richard Ratcliffe - has repeatedly drawn attention to during a high-profile campaign on his wife's behalf. 
Zaghari-Ratcliffe's requests for periods of temporary release - for which she is eligible - have been met on only one occasion (in August), followed three days later by a return to jail. Amnesty described her return to jail on 26 August as a "crushing disappointment". She is suffering from numerous health problems - including severe arm, neck and back pain - and there have been serious concerns over her mental state. 
Amnesty has designated Zaghari-Ratcliffe a prisoner of conscience targeted solely for the peaceful exercise of her rights to freedom of expression and association. Amnesty has repeatedly called on the Iranian authorities to release her immediately and unconditionally. To date, more than 170,000 people have supported Amnesty's campaign. 
Kate Allen, Amnesty International UK's Director, said:
"Today is another extremely depressing milestone for Nazanin and her family.

"We had of course hoped that Nazanin would have been free long ago, but we can assure her and her family that we won't stop campaigning until that happens. 

"Nazanin is a prisoner of conscience who should never have been jailed in the first place.

"The UK Government should continue to press for Nazanin's release using every channel of communication available to it. Our supporters will do likewise."
Arrested more than two-and-a-half years ago
A British-Iranian dual-national, Nazanin Zaghari-Ratcliffe was arrested at a Tehran airport on 3 April 2016 prior to boarding a plane back to the UK after a regular family visit to the country with her infant daughter Gabriella. After being detained in solitary confinement without access to a lawyer, Zaghari-Ratcliffe was sentenced to five years in prison in September 2016 after being convicted of "membership of an illegal group" in a grossly unfair trial by a Revolutionary Court in Tehran. 
The conviction was in connection with her employment at Thomson Reuters Foundation, a charity promoting socio-economic progress, independent journalism and the rule of law, as well as her past work as an administrative assistant with BBC Media Action. The sentence was upheld on appeal last year and her subsequent request for judicial review denied.