Myanmar: UN resolution over accountability is 'important step forward'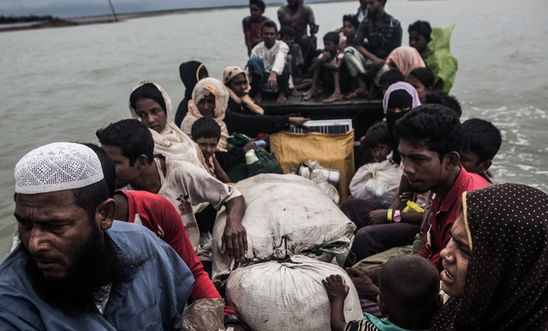 Rohingya refugees fleeing to Bangladesh last year © Andrew Stanbridge / Amnesty International
Move is 'stark warning to Myanmar's military that their crimes will be punished' - Tirana Hassan
Responding to the UN Human Rights Council's adoption today of a resolution calling for an accountability mechanism to collect and preserve evidence of human rights crimes in Myanmar, Tirana Hassan, Amnesty International's Crisis Response Director, said: 
"Today's resolution is an important step forward in the fight for accountability in Myanmar.

"It sends a clear message of solidarity to the victims and survivors, as well as a stark warning to Myanmar's military that their crimes will be punished.

"While the UN Security Council remains bogged down by politics, the Human Rights Council has stepped up to the challenge with this serious and constructive approach to pave the way for justice. 

"The UN Security Council has a clear responsibility to refer the situation to the International Criminal Court. Its ongoing failure to do so is a stain on its credibility as the global body tasked with maintaining international peace and security.

"It is deeply disturbing that China sought to shield perpetrators from justice and accountability by calling a vote on this resolution."
China's attempt to block the resolution at the Human Rights Council was defeated - with 35 states voting to adopt it, three voting against and seven abstaining.
'Widespread and systematic assault' on Rohingya
More than 725,000 Rohingya women, men, and children fled from Myanmar's Rakhine State to neighbouring Bangladesh when the Myanmar security forces launched a widespread and systematic assault on hundreds of Rohingya villages in the days and weeks after 25 August 2017. The onslaught came in the wake of a series of attacks on security posts by a Rohingya armed group, the Arakan Rohingya Salvation Army.
Amnesty has extensively documented the military's atrocities, including the targeted burning of Rohingya villages, the use of landmines and other crimes against humanity - including murder, rape, torture, starvation and forced deportation. Amnesty has also documented war crimes against ethnic minorities in Kachin and northern Shan states, where violations are ongoing.
Earlier this month, the UN Fact-Finding Mission on Myanmar presented its final report to the Human Rights Council, providing yet more evidence of the military's crimes in Myanmar. The Mission called for senior military officials and other suspected perpetrators to be investigated and prosecuted for crimes against humanity, war crimes and genocide. 
Meanwhile, earlier this week, Amnesty delivered more than 90,000 signatures from people around the world to members of the Human Rights Council, calling for the establishment of an accountability mechanism for atrocities in Myanmar. Amnesty has also recently called on world leaders at the General Assembly to hold Myanmar's military leaders to account.