Malaysia: More than 200 Rohingya boat refugees at coronavirus risk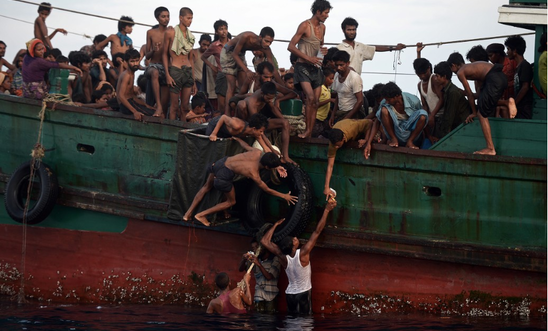 © Christophe Archambault/AFP/Getty Images
Boat with 202 Rohingya found adrift off Malaysian coast three days ago
Inhumane Malaysian immigration detention facilities deadly pose risk to the group
'They should be released following quarantine and given the protection they need' - Preethi Bhardwaj
The Malaysian authorities must ensure that more than Rohingya people found adrift off the Malaysian coast are spared the risk of mass infection by being incarcerated in one of the country's inhumane detention facilities, Amnesty International said today.
Earlier this week (5 April), the Malaysian Maritime Enforcement Agency intercepted a boat carrying 202 Rohingya people - including children - off the coast of Langkawi. The Malaysian authorities said that the boat's captain, believed to be operating a human trafficking operation, had escaped while at sea.
Amnesty understands that the group are now in quarantine for 14 days, are being tested and screened for COVID-19, and may be transferred from there into immigration detention.
Preethi Bhardwaj, Amnesty International Malaysia's Interim Executive Director, said:
"The Government must ensure adequate protection for these Rohingya people, who are in desperate need of safety from both persecution and illness.
"Given the elevated risk of transmission in detention facilities, they should be released following quarantine and given the protection they need under international law.
"Detaining even more people at this time will put countless people's health in jeopardy and would only fan the flames of the current crisis.
"The authorities must ensure that these refugees, who have already had a traumatic ordeal, have adequate space for social distancing, adequate water and sanitation facilities, and access to healthcare and hygiene equipment, both in quarantine and thereafter.
"We also call on the Government to enact measures to protect those already in immigration detention, including the release of detainees to reduce outbreaks of COVID-19, as well as other steps to prevent overcrowding and ensure the right to adequate healthcare."
Indefinite detention
Rohingya people seeking refuge in Malaysia are often faced with indefinite detention in the country's immigration facilities. Previous research by Amnesty found conditions in these centres in Malaysia amounted to cruel, inhumane and degrading treatment, with many suffering from overcrowding, unsanitary condition, and a lack of food and water.