Libya: migrants refusing to disembark ship must not be forced into detention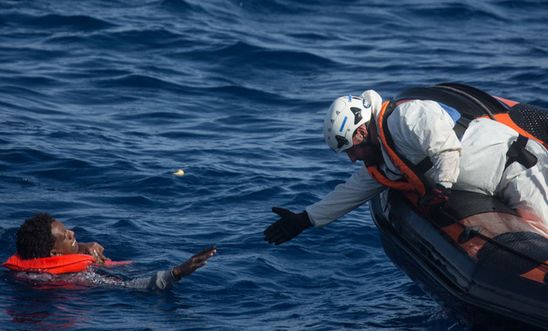 Search and rescue missions in the Mediterranean have increasingly become ones where migrants are forcibly taken back to Libya © Chris McGrath/Getty Images
At least 79 refugees and migrants in Misratah port at risk of torture if forced to disembark in Libya
'Nivin' cargo ship appears to have breached international law in taking dozens of migrants back to Libya from central Mediterranean
One of those on board tells Amnesty he 'would rather die' than go back to a Libya detention centre
The Libyan, European and Panamanian authorities must ensure that at least 79 refugees and migrants refusing to disembark from a merchant vessel at the port of Misratah are not forcibly removed and taken to a Libyan detention centre, said Amnesty International today. 
The refugees and migrants - including a number of children - were found last week as they attempted to reach Europe by boat across the Mediterranean. Amnesty understands that Italian and Maltese maritime authorities were involved in the operation, carried out by the merchant ship, the "Nivin". 
Flying a Panamanian flag, the Nivin picked up the group in the central Mediterranean on 8 November and returned them to Libya, in what appears to be a clear breach of international law given that Libya cannot be considered a safe place to disembark. 
Like most of the refugees and migrants passing through Libya, a number of those on the ship have told Amnesty that they were subjected to horrific human rights abuses while previously held in detention centres in Libya - including extortion, ill-treatment and forced labour. One of those on board told Amnesty he had already been held in eight different detention centres inside Libya and "would rather die than go back there". 
Fourteen people who agreed to leave the ship yesterday have been taken to a detention centre - among them is a four-month-old baby. 
The stand-off at the ship comes amid reports that some refugees and migrants held at Libyan detention centres are being driven to take their own lives. A young Eritrean man was reported to have attempted to kill himself earlier this week. Last month, a Somali man at the same detention centre died after setting himself on fire.
Heba Morayef, Amnesty International's Middle East and North Africa Director, said:
"The protest on board the ship now docked in Misratah gives a clear indication of the horrifying conditions refugees and migrants face in Libya's detention centres where they are routinely exposed to torture, rape, beatings, extortion and other abuse.

"Under international law, no-one should be sent to a place where their life is at risk.  

"European governments and Panama must work with Libyan authorities to find a solution for the people on board to ensure they do not end up indefinitely detained in Libyan detention centres where torture is rife.

"The protest on board this ship should serve as a wake-up call to European governments and the wider international community that Libya is not a safe country for refugees and migrants."
Amnesty has repeatedly called on European governments, including the UK's, to bear responsibility for the mounting death toll in the Mediterranean, describing deaths as "the deadly consequences of Europe's policies towards refugees and migrants".
Long-awaited processing centre desperately needed
Amnesty is also calling on the Libyan authorities to expedite the opening of a long-awaited processing centre that will house up to 1,000 refugees and asylum seekers, and allow them to be relocate out of abusive detention centres. Earlier this week, Amnesty highlighted how around 6,000 migrants and refugees in Libya are trapped in appalling conditions in numerous detention centres.