Libya: desperate plight of detained migrants has 'deteriorated' - new briefing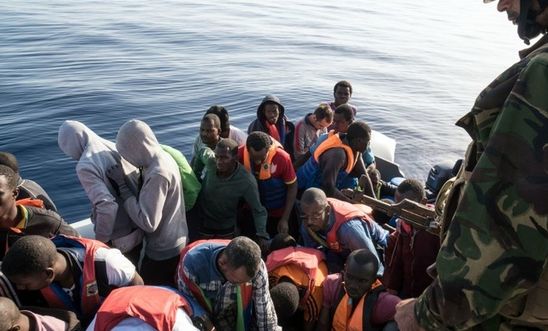 The Libyan Coastguard have been rounding up migrants and taking them back to detention in Libya © TAHA JAWASHI/AFP/Getty Images
EU's 'cruel' policy of blocking Mediterranean escape route is key factor
 
6,000 refugees and migrants trapped in Libyan detention centres where abuse is rife
International Libya conference in Sicily today should prioritise plight of country's refugees
Ahead of an international meeting in Palermo today and tomorrow on Libya's political crisis, Amnesty is calling on those taking part to ensure that the plight of refugees and migrants are a key part of the negotiations.
A new five-page Amnesty briefing shows how EU countries' policies to curb migration, as well as their failure to provide sufficient resettlement places for refugees, are fuelling a cycle of abuse by trapping thousands of migrants and refugees in appalling conditions in Libyan detention centres.
The briefing says that conditions for refugees and migrants in Libya have "largely deteriorated over the past year", with armed clashes in Tripoli making the situation even worse.
The UN refugee agency (UNHCR) has registered 56,442 refugees and asylum-seekers in Libya and has repeatedly called on European and other governments to resettle refugees stranded in Libya, including through evacuation to Niger. However, only 3,886 resettlement places have been pledged by 12 countries, and only 1,140 refugees have been resettled in Niger. Separately, Italy evacuated 312 asylum-seekers to Italy between last December and February, but no further evacuations took place until the resettlement of 44 refugees last week.
Over the past two years EU countries have sought to block migration across the central Mediterranean, increasing the Libyan Coast Guard's capacity to intercept sea crossings, striking deals with militias in Libya and hampering the work of NGOs carrying out search and rescue operations. These policies have contributed to a nearly 80% drop in the numbers crossing the central Mediterranean and arriving in Italy, from 114,415 between January and November 2017 to just 22,232 so far in 2018. There are currently around 6,000 refugees and migrants languishing in Libyan detention centres.
Meanwhile, the opening of a long-promised UNHCR processing centre in Libya for up to 1,000 refugees has been repeatedly delayed. Amnesty believes the centre would be a positive step, but its small scale means it does not offer a sustainable solution.
Heba Morayef, Amnesty International's Middle East and North Africa Director, said:
"Cruel policies by EU states to stop people arriving on European shores, coupled with their woefully insufficient support to help refugees reach safety through regular routes, means that thousands of men, women and children are trapped in Libya facing horrific abuses with no way out."

"While Europe fails to extend the desperately-needed lifeline to save those stuck in Libya and at risk of abuse, it is time that the Libyan authorities take responsibility for their atrocious policies of unlawful detention and protect the human rights of all people in their territory."
Detained migrants wounded by militia fighting
Armed clashes in Tripoli in August and September this year have made the situation for refugees and migrants in Libya yet more dangerous. Some of those held in detention centres have been wounded by stray bullets. There have also been instances where detention centre guards have fled to escape rocket attacks leaving thousands of inmates locked up without food or water.