Lebanon: 'outrageous' crackdown on Beirut Pride condemned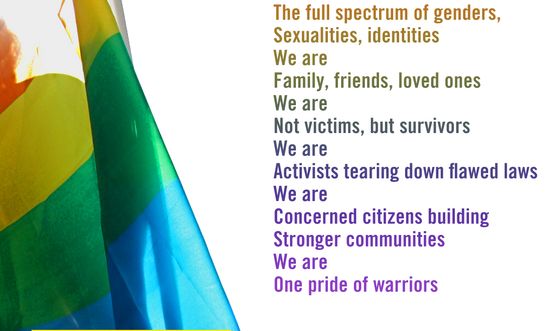 An Amnesty poem (@blimundaseyes) published to mark this year's IDAHOT © Amnesty International
Director of Beirut Pride Week detained and interrogated for 'encouraging debauchery'
'We stand in solidarity with all those affected by the cancellation of Beirut Pride Week' - Lynn Maalouf
The Lebanese authorities' crackdown on Beirut Pride Week is an outrageous attempt to deny the human rights of LGBTI people in the country, said Amnesty International today. 
Earlier this week, the authorities in Beirut cancelled a programme of events to commemorate International Day Against Homophobia and Transphobia (IDAHOT, which is marked today), and briefly arrested Beirut Pride Week organiser Hadi Damien.
The Beirut Pride Week was scheduled to run from 12-20 May. Its director, Hadi Damien, was arrested on Monday evening (14 May) following complaints from critics and was subsequently interrogated for allegedly "encouraging debauchery and offending public decency". 
Mr Damien was released on Tuesday afternoon after the authorities asked him to sign a pledge calling off the rest of the festival's events in exchange for his release.
Despite Beirut Pride Week's cancellation, other Lebanese activists and NGOs - including the Lebanese LGBTI campaign organisation HELEM, which has been organising IDAHOT events for the past 12 years - are still planning activities for this year's IDAHOT celebrations.
Meanwhile, said Amnesty, the Lebanese Internal Security Forces are continuing to arrest people and press charges under Article 534 of the country's penal code which is often used to criminalise homosexuality. Article 534 states that "all sexual intercourses which contradict the laws of nature" are punished by imprisonment for up to one year and a fine.
Lynn Maalouf, Amnesty International's Middle East Research Director, said:  
"LGBTI rights are human rights.
 
"The shutdown of Beirut Pride and the arrest of Hadi Damien is a blatant case of state harassment. 

"The Lebanese authorities must stop cancelling events to celebrate LGBTI rights and ensure freedom of expression and assembly for the LGBTI community. 

"They must also stop arresting those perceived to be LGBTI and drop charges and release those who have been arrested under the draconian legislation of Article 534. 

"Activists have been bravely struggling to repeal this legislation for over a decade. We hope that the newly-elected members of parliament will recognise this struggle and move forward with finally repealing it.

"We stand in solidarity with all those affected by the cancellation of Beirut Pride Week and all those arrested for crimes on the basis of this sham law."