Lebanon: cancellation of Mashrou' Leila concert condemned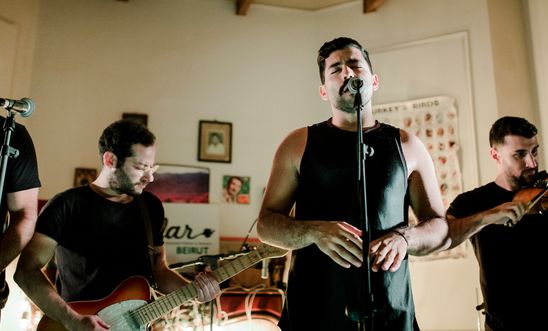 Mashrou' Leila are known for songs tackling issues such as homophobia, patriarchy and corruption in Arab societies © Myriam Boulos
Mashrou' Leila played same songs at same venue three years ago
Band subjected to mounting online hate campaign in recent weeks
'This is the direct result of the government's failure to take a strong stand against hatred and discrimination' - Lynn Maalouf
Responding to the forced cancellation of Mashrou' Leila's planned performance next week at Lebanon's Byblos International Festival, Lynn Maalouf, Amnesty International's Middle East Research Director, said:
"This decision is a devastating blow for the right to freedom of expression in the country, and exposes the Lebanese authorities' abdication of their responsibility to ensure that the band was protected amid a mounting hate campaign. 

"This is the direct result of the government's failure to take a strong stand against hatred and discrimination, and to put in place the necessary measures to ensure the performance could go ahead.

"Mashrou' Leila played the same songs at the same venue only three years ago. The fact that they are now unable to perform amidst calls of hatred and violence is an alarming indicator of the deterioration of the situation with regards to freedom of expression in the country."
Outspoken on homophobia and other issues
Mashrou' Leila, known for songs tackling issues such as homophobia, patriarchy and corruption in Arab societies, had been due to appear at the festival on 9 August. 
However, the group have received mounting threats and vilification on social media in recent weeks. On 22 July, church leaders from the Maronite Catholic Eparchy of Byblos issued a statement saying Mashrou' Leila's songs were "offensive to religious and humanitarian values and Christian beliefs", and called on the festival organisers to drop the group. 
Today, the festival organisers said that Mashrou' Leila's appearance at the event had been cancelled "to prevent bloodshed and maintain security and stability".