Lebanon: authorities have used excessive force against peaceful protesters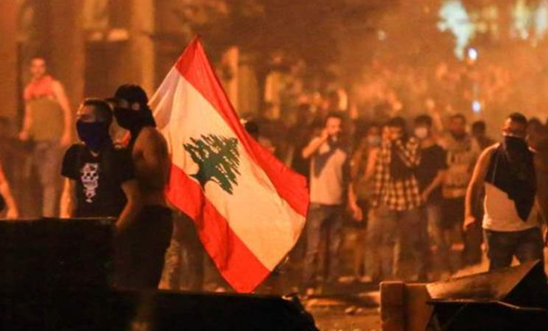 Protesters have been calling for an end to corruption and for economic reform © Getty Images
Amnesty staff witness security forces firing huge quantities of tear gas, amid mounting reports of protesters being beaten
'They were hitting people on their heads and bodies with their hands, rifles and batons' - protester
The Lebanese security forces used excessive force yesterday to disperse an overwhelmingly peaceful protest in central Beirut, including by firing huge amounts of tear gas into crowds, chasing protesters down streets and alleys at gunpoint and beating them, said Amnesty International.
Protesters started assembling in multiple towns and cities across Lebanon on Thursday evening, following a cabinet announcement over new tax measures. Throughout Friday, thousands of protesters gathered in central Beirut, Tripoli, Zouk Mikhael, Tyre and other locations, accusing the political leadership of corruption and calling for social and economic reforms.
Last night in Beirut, at 8pm, shortly after a speech from Prime Minister Saad Hariri, security forces used excessive force to disperse overwhelmingly peaceful protests in an operation that continued for more than three hours.
Amnesty staff monitored the protests in Beirut and interviewed 21 witnesses and a human rights lawyer, as well as reviewing video footage of protesters being forcibly dispersed. At around 8pm, riot police fired excessive amounts of tear gas into the middle of overwhelmingly peaceful crowds who had gathered during the day. Amnesty spoke to six protesters who said they'd seen security forces advancing on protesters, leading to a scuffle near a security barrier. In response, riot police fired in the air and launched tear gas into the crowds. Amnesty staff saw how the security forces continued to fire significant amounts of tear gas over the following hours.
One protester, Maryam Majdoline Lahham, who was with a group of friends in a protest tent, told Amnesty how at around 10pm they suddenly saw crowds of protesters running towards them, followed by security forces:
"When they got to us, they hit us with stones and fired more tear gas bombs into the tents. Everybody started shouting, coughing, trying to run in all directions but there was nowhere to go … People started fainting, I saw a man carrying a 60-year-old woman who had passed out from the gas."
Another protester told Amnesty:
"Around 10pm, tear gas clouded the whole area, we couldn't breathe anymore, and people started fainting. Around 10.30pm, army vehicles advanced into Riad El Solh to evacuate the area. Some of us retreated into Mar Mkhayel and others toward Annahar building. Army forces followed us and they started hitting and arresting whoever they laid hands on. We were all peaceful protesters. They were hitting people on their heads and bodies with their hands, rifles and batons."
Security officers chased peaceful protesters who had fled the scene into the side streets, beating them with batons and arresting some. Daily Star reporter Timour Azhari captured on video military officers beating and kicking a man who was lying helpless on the ground. The man had been riding his motorcycle on the ring road when the officers had stopped him.
Lebanon's Internal Security Forces said on their Facebook page that they had arrested at least 70 people for "acts of vandalism and looting in downtown Beirut." While Amnesty observers witnessed some phone booths with broken glass and broken parking meters, they said the protests were overwhelmingly peaceful until attacks from the security forces.
Amnesty spoke to Ghida Frangie, a human rights lawyer who confirmed that a number of detainees had been ill-treated and beaten by security forces at the point of their arrest and while they were being taken to police stations.
Lynn Maalouf, Amnesty International's Middle East Research Director, said: 
"Isolated incidents of property damage do not warrant such excessive use of tear gas against an overwhelmingly peaceful protest; and nothing can justify beating protesters. 

"The intention was clearly to prevent protesters gathering - in a clear violation of the right to peaceful assembly.
 
"We call on the Lebanese authorities to respect the right of protesters to freedom of peaceful assembly, and investigate the excessive use of tear gas as well as the beatings and harassment at gunpoint of protesters that took place last night."