Japan: Two men hanged as 'cruel and inhumane' executions continue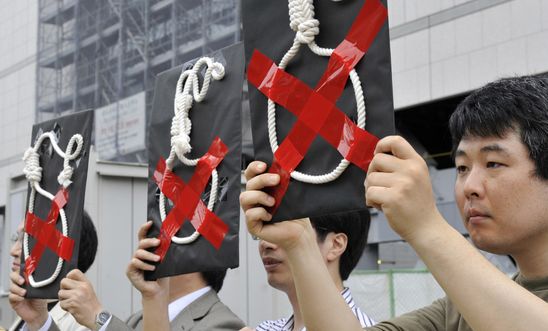 The Japanese government's continued use of the death penalty demonstrates a contempt for the right to life following the execution of two men earlier today, Amnesty International said.
The executions, the first in Japan this year, take the number of people executed under the current government to 19 since 2012.
Masakatsu Nishikawa, who was convicted of the murder of four people in 1991 and 1992, was executed at Osaka Detention Centre. He maintained his innocence on some of the charges against him and the Asahi newspaper reported that he was seeking a retrial. Koichi Sumida, who was convicted of murder in 2011, was executed at the Hiroshima Detention Centre. 
Hiroka Shoji, East Asia Researcher at Amnesty International, said:
"Today's executions shows the Japanese government's wanton disregard for the right to life. The death penalty never delivers justice, it is the ultimate cruel and inhumane punishment.

"Executions in Japan remain shrouded in secrecy but the government cannot hide the fact that it is on the wrong side of history, as the majority of the world's states have turned away from the death penalty."
There are 124 death row prisoners detained in Japan, based on the latest figures from the Ministry of Justice.
Secret executions
Executions in Japan are carried out with prisoners typically given only a few hours' notice, and some given no warning at all. Their families, lawyers and the public are usually notified about the execution only after it has taken place.
Secret executions are in contravention of international standards on the use of the death penalty. This and the lack of other adequate legal safeguards for those facing the death penalty in Japan has been widely criticised by UN experts. Among their criticisms are the fact that defendants are denied adequate legal counsel and there remains a lack of a mandatory appeal process for capital cases. Several prisoners with mental and intellectual disabilities are also known to have been executed or remain on death row.
Amnesty opposes the death penalty in all cases without exception, regardless of the nature or circumstances of the crime, the guilt, innocence or other characteristics of the offender or the method used by the authorities to carry out the execution. The death penalty violates the right to life and is the ultimate cruel, inhuman and degrading punishment.
On 1 July, Mongolia became the most recent and the 105th country worldwide to abolish the death penalty for all crimes. For more on the global situation on capital punishment, see Amnesty's Death Sentences and Executions in 2016 report.