Israel's planned demolition of Bedouin village must be stopped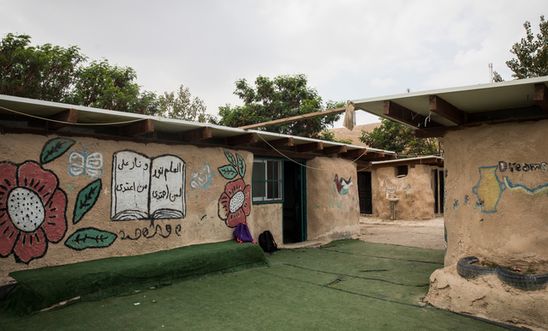 The village faces total destruction © Amnesty International (Richard Burton)
Khan al-Ahmar, home to 180 people east of Jerusalem, has been declared a closed military zone and the entire village faces destruction
'Going ahead with the demolition of Khan al-Ahmar … is a war crime' - Magdalena Mughrabi
Amnesty International is calling for the planned demolition by the Israeli authorities of a Bedouin village near east Jerusalem to be stopped, warning that its destruction would amount to a war crime.
This morning, Israeli security forces closed off areas surrounding Khan al-Ahmar in apparent preparation for the destruction of the entire village - including a school, farmland, a mosque and the homes of all families living in the village. 
This follows a ruling by Israel's Supreme Court on 24 May that the Israeli authorities could destroy the entire village, including its school which is constructed from rubber tyres and provides education for some 170 children from five different Bedouin communities.
Early yesterday morning, Israeli forces stormed the nearby Bedouin village of Abu al-Nuwwar, demolishing ten Palestinian homes and structures used for the upkeep of livestock. 
The forcible transfer of Palestinians from their homes and the settling of Israeli civilians in the Occupied Palestinian Territories violate the Fourth Geneva Convention and are war crimes. 
Magdalena Mughrabi, Amnesty International's Middle East and North Africa Deputy Director, said:
"The demolition of Khan al-Ahmar must be stopped.
 
"Going ahead with the demolition of Khan al-Ahmar is not only profoundly cruel - it would also amount to forcible transfer, which is a war crime. 

"Israeli forces have declared Khan al-Ahmar a closed military zone, and blocked all entry into the village, even issuing fines to people who attempted to stop their cars nearby or park there. 

"We have received reports of violent assaults against protesters and the clearing of roads to allow access for bulldozers. 

"Local and international activists have been injured and arrested by security forces, with some briefly detained. Scores of men, women and children face the trauma of displacement and having their homes destroyed by occupying forces."
Illegal Israel settlements surround Khan al-Ahmar
Khan al-Ahmar is inhabited by about 180 residents from the Jahalin Bedouin tribe. Several illegal Israeli settlements surround the village located east of Jerusalem, and its destruction would allow the expansion and connection of large settlement blocs, ultimately surrounding the entire area of East Jerusalem with illegal Israeli settlements and further restricting access to the city for Palestinians. 
Amnesty representatives are available for comment and continue to monitor the situation from East Jerusalem.