Israel/OPT: petition to TripAdvisor CEO calls on company to pull out of settlements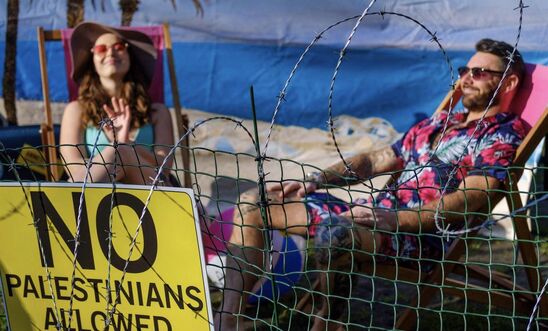 Activists set up a 'barbed-wire beach' outside the TripAdvisor HQ in London last year to highlight the company's involvement in human rights violations © Jon Cornejo/Amnesty International UK
More than 300,000 people sign petition to TripAdvisor boss Stephen Kaufer
Call comes ahead of possible Israeli annexation of large swathes of West Bank 
'TripAdvisor is siding with the abusive policies of the Israeli government' - Saleh Higazi
Amnesty International has sent a 300,000-strong petition to TripAdvisor's CEO Stephen Kaufer today calling on the online travel company to discontinue its operations in Israel's illegal settlements on Palestinian land in the West Bank.
TripAdvisor is the most visited online tourism website by foreign visitors to Israel, and it promotes at least 70 places to stay or things to do in the illegal Israeli settlements. 
Amnesty's petition calls on TripAdvisor to urgently remove its listings in settlements and send a clear message that it will no longer contribute to human rights violations. 
Last year, Amnesty documented how digital tourism companies are fuelling and profiting from war crimes and human rights violations against Palestinians by promoting attractions on illegally-occupied land. Following the publication of Amnesty's research, TripAdvisor said:
"We understand that this issue is a sensitive matter with cultural and political implications. The listing of a property or business on TripAdvisor does not represent our endorsement of that establishment."
Since then, the company has not changed any of its policies and its website still carries listings for sites that are - in effect - crime scenes. For example, TripAdvisor lists a vineyard and an archaeological site in Susya in the southern Hebron hills, an Israeli settlement that has forced generations of Palestinians out of their homes. Palestinians are forbidden from entering the site, including even ex-residents of the village on whose ruins the site was constructed.
Earlier this year, the UN published a database listing more than 100 companies - including TripAdvisor - with business links to the settlements. These companies are knowingly breaching their international obligations to "avoid causing or contributing to adverse human rights impacts through their own activities and address such impacts when they occur". 
TripAdvisor has not responded to Amnesty's recent requests for comment ahead of today's petition. 
Saleh Higazi, Amnesty International's Middle East Deputy Director, said:
"It is shameful that TripAdvisor has failed to update its policies, even as Israel forges ahead with increasingly aggressive land grabs that will intensify the suffering of Palestinians. 

"While tourists in Susya settlement enjoy wine and a swimming pool, Palestinians on the other side of a barbed wire fence live in makeshift shelters slated for demolition and struggle to find clean water. Tourism is sustaining this outrageous situation.

"By continuing to do business with settlements, TripAdvisor is siding with the abusive policies of the Israeli government and the Trump administration, ignoring the suffering of Palestinians, and going against international law."
Annexation plan would deepen injustice
Amnesty's research shows that the tourism industry plays an important role in driving settlement expansion by drawing in visitors who boost their economies, and by legitimising and normalising the existence of settlements
According to Peace Now, there has been a sharp increase in settlement expansion since the beginning of 2020 and the release of US President Donald Trump's "deal of the century". At the same time, violence perpetrated by settlers against Palestinians has continued with the Israeli authorities rarely intervening. According to the UN Office for the Coordination of Humanitarian Affairs, since the release of the Trump deal there have been at least 250 incidents involving violence, intimidation or trespass by Israeli settlers. 
The Israeli authorities appear poised to carry out a threatened annexation of large swathes of the West Bank - possibly early next month. The annexation plan was set out in the Trump administration's "peace deal" which was announced without Palestinian consultation and has been rejected by most of the international community. International law prohibits annexation of occupied territory in any circumstances. Yesterday, UK foreign minister James Cleverley said the UK Government saw the annexation plan as a major threat to prospects for peace in the region. 
Since 1967, tens of thousands of Palestinian properties have been demolished and whole communities forcibly displaced to make way for illegal settlements. Natural resources have been diverted and appropriated to settlements which flourish while Palestinians communities face systematic and institutionalised human rights violations.