Israel/OPT: Israel must lift illegal and inhumane blockade on Gaza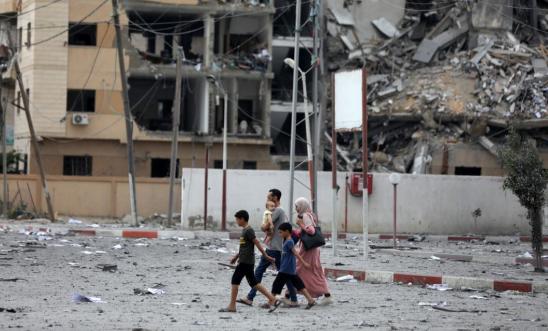 Destruction from Israeli airstrikes in Gaza City's al-Rimal district © Majdi Fathi/NurPhoto via Getty Images
Gaza's only power plant running out of fuel has plunged the territory into darkness 
Israel should facilitate the establishment of humanitarian aid corridors for Gaza
'The collective punishment of Gaza's civilian population amounts to a war crime - it is cruel and inhumane' - Agnès Callamard
The shutdown of Gaza's only power plant will exacerbate an already desperate humanitarian crisis for more than 2.2 million people trapped in the Gaza Strip, said Amnesty International today, as it called on the Israeli authorities to immediately restore Gaza's electricity supply and suspend all increased restrictions which have recently been imposed.
Amnesty is also reiterating its call on Israel to lift its illegal 16-year blockade on the Gaza Strip.
Israel's massive bombing campaign in Gaza has already killed at least 1,350 people and injured more than 6,000. The airstrikes were launched in retaliation for the weekend's attacks by Hamas and other Palestinian armed groups, attacks which saw an indiscriminate rocket barrage and fighters entering southern Israel and killing more than 1,200 people, injuring at least 2,700 more, and taking hostages, including many civilians.
The power blackout has plunged the Gaza Strip into darkness and will greatly exacerbate an ongoing humanitarian catastrophe, further limiting communications and access to the internet. The power cuts will also have a severe impact on essential services, access to clean water and will very likely cause a public health disaster leaving Gaza's already depleted hospitals without vital medical equipment at a time when medics are struggling to treat thousands of people wounded in air attacks. The situation will also endanger the lives of hospital patients, including people with chronic conditions or those in intensive care, including newborn babies on life-support. 
Earlier today, an Israeli minister said that the authorities will not restore power or allow water or fuel to enter Gaza until Hamas releases its hostages. This is explicit confirmation that Israel's response is designed to punish civilians in Gaza for the actions of Palestinian armed groups. Amnesty reiterates that Palestinian civilians are not responsible for the crimes of Hamas and other Palestinian armed groups, and according to international law Israel must not make them suffer for acts they have played no role in and cannot control.  
Agnès Callamard, Amnesty International's Secretary General, said: 
"The Israeli authorities must immediately restore Gaza's electricity supply and suspend the increased restrictions imposed as a result of the minister of defence's order of 9 October, and lift its illegal 16-year blockade on the Gaza Strip. 

"The collective punishment of Gaza's civilian population amounts to a war crime - it is cruel and inhumane. 

"As the occupying power, Israel has a clear obligation under international law to ensure the basic needs of Gaza's civilian population are met.

"Palestinian armed groups' horrific mass killing of Israeli civilians and other serious violations do not absolve Israel from upholding its obligations to respect international humanitarian law and to protect civilians. 

"The collective punishment of civilians in Gaza will not bring justice to the victims of war crimes by Hamas and other armed groups, or security to civilians in Israel."
Humanitarian corridors
Amnesty is also concerned by the repeated attacks on the Rafah border crossing into Egypt and is calling on Israel to facilitate the establishment of humanitarian corridors for the delivery of humanitarian aid to Gaza, and to allow safe passage for injured people and civilians wishing to flee the conflict. It urges the international community to work towards an agreement over humanitarian corridors.  
The Israeli authorities must refrain from committing unlawful attacks that kill or injure civilians and destroy civilian homes and infrastructure, and Israeli officials must refrain from incitement to violence against Palestinians in the occupied West Bank, including East Jerusalem, and ensure the safety of all civilians living under its control. 
All Palestinian armed groups in Gaza must release all civilian hostages unconditionally and immediately.
Amnesty is currently investigating Israeli airstrikes in Gaza, including an airstrike on a residential building in the al-Zeitoun neighbourhood which killed 15 members of the same family, including seven children - five siblings and their two cousins - in addition to their elderly grandparents; the destruction of Burj Palestine, a high-rise building in the al-Rimal neighbourhood in Gaza; and the bombing of a crowded market street in Jabalia refugee camp which killed at least 69 people, including at least 15 children.
Amnesty is calling on Israel and Palestinian armed groups to take all feasible precautions to spare civilians, in line with their obligations under international humanitarian law.
16-year-long blockade
Since 2007, Israel has imposed an air, land and sea blockade on the Gaza Strip collectively punishing its entire population. On 9 October, Israel's minister of defence Yoav Gallant announced a "complete siege on Gaza ... No electricity, no food, no water, no gas - it's all closed", as part of Israel's response to attacks by Hamas and other Palestinian armed groups. 
In June this year, Amnesty published an investigation into Israel's offensive on the Gaza Strip the previous month, finding that Israel had unlawfully destroyed Palestinian homes, often without military necessity in what amounts to a form of collective punishment against the civilian population. In a 2022 report, Amnesty showed how Israeli forces have committed in Gaza (as well as in the West Bank and Israel) acts prohibited by the Statute of the International Criminal Court and the Apartheid Convention, as part of a widespread and systemic attack against the civilian population with the aim of maintaining a system of oppression and domination over Palestinians, thereby constituting the crime against humanity of apartheid.