Israeli forces displayed 'callous indifference' during attacks on homes in Gaza - new report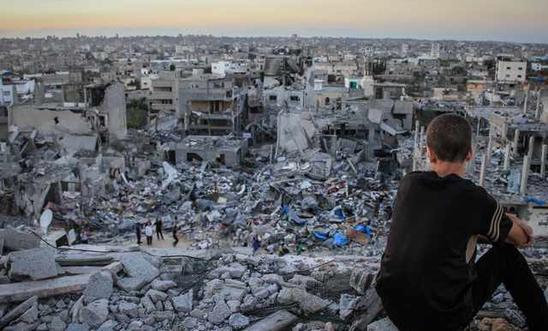 A Palestinian boy sits above the ruins of his bombed home © Ibrahim Khader/Pacific Press/LightRocket via Getty Images
'The onus is on Israeli officials to explain why they chose to deliberately flatten entire homes full of civilians' - Philip Luther
Israeli forces showed a "callous indifference" over the fate of Palestinian civilians in attacks targeting houses full of families which in some cases amounted to war crimes, Amnesty International says in a new report today (5 November) on Israel's summer offensive in the Gaza Strip.
Amnesty's 47-page report -
Families under the Rubble: Israeli attacks on inhabited homes
- provides a detailed analysis of eight attacks on family homes in Gaza, attacks which caused the deaths of at least 104 civilians, including 62 children. In the deadliest single attack of Israel's Operation Protective Edge, 36 members of four families - including 18 children - were killed when their homes in the three-storey al-Dali building in the city of Khan Yunis were completely destroyed on 29 July. At least 21 people were injured, including four children, several of them severely. Another attack on 20 July completely levelled the Abu Jame' family home in Abu Safa, east of Khan Yunis, killing 25 members of the family - 19 children, five women and one man. A member of the al-Qassam Brigades who was in the vicinity of the house at the time was also killed.
Regardless of the intended military targets, both of these attacks were grossly disproportionate and under international law they should have been cancelled or postponed as soon as it was evident that numerous civilians were present in the houses. In all of the cases researched by Amnesty, no prior warning was given to residents of the homes which were attacked - if warnings had been given excessive loss of civilian life could have been avoided. 
Israel has so far failed even to acknowledge the attacks detailed in Amnesty's report and has not responded to Amnesty's requests for explanations of why these attacks occurred. While Amnesty's own research has identified a possible military target in some of the attacks, this does not absolve the Israeli authorities from responsibility to minimise harm to civilians. Meanwhile, it appears that several of the attacks directly and deliberately targeted civilians or civilian objects, which would constitute war crimes.
Amnesty International Middle East and North Africa Director Philip Luther said:
"Israeli forces have brazenly flouted the laws of war by carrying out a series of attacks on civilian homes, displaying callous indifference to the carnage caused.

 

"It is tragic to think that these civilian deaths could have been prevented. The onus is on Israeli officials to explain why they chose to deliberately flatten entire homes full of civilians, when they had a clear legal obligation to minimise harm to civilians and the means of doing so.

 

"Even if a fighter had been present in one of these residential homes, it would not absolve Israel of its obligation to take every feasible precaution to protect the lives of civilians caught up in the fighting.

 

"What is crucial now is that there is accountability for any violations of international humanitarian law that have been committed. The Israeli authorities must provide answers."
Families blown apart
Amnesty's report contains numerous accounts of relatives describing the horror of frantically digging through the rubble of destroyed homes searching for their loved ones. Survivors of an attack on the al-Hallaq family home on the second floor of the nine-storey Cordoba Building in the Remal district of Gaza City have described horrifying scenes of body parts strewn amid the dust and chaos after three missiles struck the building on 20 July. Khalil Abed Hassan Ammar, a 45-year-old doctor with the Palestinian Medical Council, saw three of his four children killed as they watched television early in the evening:
"It was terrifying; we couldn't save anyone ... All of the kids were burnt. I couldn't tell which were mine and which were the neighbours' ... It was impossible to recognise them or their features. We carried whoever we were able to the ambulance ... I only recognised Ibrahim, my eldest child, when I saw his leg and the shoes he was wearing. I had bought them for him two days before."
Khalil's wife Nawal said: "When I was at the hospital and I wanted to say goodbye to Ibrahim there wasn't a body, only a bag full of his body's shreds and pieces but I had to hug that bag."
Neighbours spent three days looking for the dead in the rubble of the Cordoba Building attack, with one saying: "All I can remember are the bits and pieces I saw of bodies, teeth, head, arms, insides, everything scattered and spread. We managed with very simple, primitive tools - a broomstick and other tools - to go through the rubble."
No accountability, no access
More than 1,500 Palestinian civilians, including 519 children, were killed in Israeli attacks carried out during the latest Gaza conflict, and at least 18,000 homes were destroyed or rendered uninhabitable. Palestinian armed groups also committed war crimes, firing thousands of indiscriminate rockets into Israel, killing six civilians including one child.
Given the failure of Israeli and Palestinian authorities to independently and impartially investigate allegations of war crimes, it is imperative that the international community support the involvement of the International Criminal Court. Amnesty is renewing its calls on Israel and the Palestinian authorities to accede to the Rome Statute and grant the ICC the authority to investigate crimes committed in Israel and the Occupied Palestinian Territories.
Israel continues to deny access to Gaza for international human rights organisations - including Amnesty - and the organisation has been forced to conduct its research for this report remotely, supported by two fieldworkers based in Gaza. Israel has also announced that it will not co-operate with the Commission of Inquiry established by the UN Human Rights Council.
Philip Luther added:
"Failing to allow independent human rights monitors into Gaza smacks of a deliberately orchestrated attempt to cover up violations or hide from international scrutiny."
UK arms to Israel
Last year the UK sold £6.3m of arms to Israel and in the past UK-supplied equipment has been used by the Israeli military to commit human rights violations in Gaza. For several months Amnesty has been calling for a suspension of all UK arms transfers to Israel - as well as for pressure to be exerted on those supplying Palestinian groups in Gaza with munitions. Amnesty's
call
on the Foreign Secretary Philip Hammond - which has so far won the support of nearly 60,000 people.