Israel/Gaza: attacks on hospitals are possible war crimes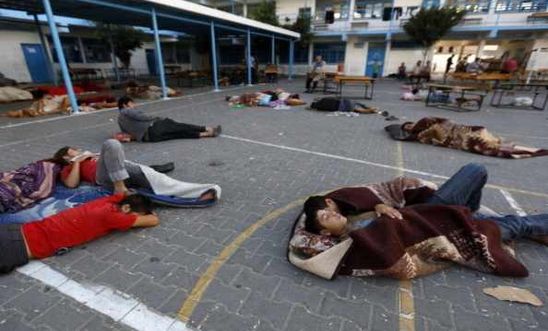 Palestinians sleeping in the yard of a UN school in the northern Gaza town of Beit Lahiya last week © AFP/Getty Images
Over 20,000 people support new call on Foreign Secretary Philip Hammond to stop UK arms transfers to Israel
Israel's continuing bombardment of civilian homes in several areas of the Gaza Strip, as well as the shelling of a hospital, add to the list of possible war crimes that demand an urgent independent international investigation, said Amnesty International this evening.
Earlier today the third floor of the Al-Aqsa hospital in Deir al-Balah was struck by Israeli shelling, killing four people and wounding dozens, according to the Gaza Ministry of Health spokesperson. Last week, the Al-Wafa rehabilitative hospital in Shuja'iyyeh was severely damaged after being attacked twice by Israeli forces. 
With the Israeli ground invasion in its fourth day and the death toll in Gaza exceeding 550 people, the majority of them civilians, there is an urgent need for the parties to agree to periodic pauses in the fighting to facilitate the evacuation of the dead and wounded. Additionally, with as many as 1.2 million people without water or sewage services, municipal workers and relief organisations need to carry out emergency repair work to prevent a public health catastrophe. 
From Saturday night to Sunday morning, intense Israeli bombardment of Shuja'iyyeh killed more than 60 people, including at least 17 children and 14 women. More than 200 people are reported wounded, and civilians were forced to flee under fire. At least 13 Israeli soldiers were also killed overnight, the majority of them in Shuja'iyyeh. Hamas has also continued to fire hundreds of indiscriminate rockets into Israel in violation of international law, killing two Israeli civilians and injuring others. 
The Israeli military said that Shuja'iyyeh, a densely-populated area with some 92,000 residents east of Gaza City, had been targeted because it was a "fortress" housing rockets, tunnels and command centres. Israeli military and government officials have repeatedly said that civilians were warned to evacuate the area days before it was attacked. However, many civilians in Shuja'iyyeh and other areas did not evacuate because they had nowhere to go. All the UNRWA schools and other facilities opened as shelters are overflowing. Issuing warnings to evacuate entire areas does not absolve Israeli forces of their obligations to protect civilians under international humanitarian law. 
Amnesty International Middle East and North Africa Director Philip Luther said:
"There can be no justification for targeting medical facilities at any time. 

 

"Attacks on medical facilities underline the need for a prompt, impartial international investigation mandated by the UN.

"Today's attack on the Al-Aqsa hospital is the latest in a series of attacks on and near medical facilities in Gaza, which have been struggling to cope with thousands of injured people since the Israeli offensive began on 8 July.

 

"The relentless bombardment of Shuja'iyyeh and other civilian areas in the Gaza Strip, as well as the continuing indiscriminate rocket attacks on Israel, demand urgent international action to prevent further violations. 

 

"The UN should impose an arms embargo on all sides, and all states should immediately suspend transfers of military equipment to Israel, Hamas, and Palestinian armed groups in the Gaza Strip."
Call on Philip Hammond to stop arms transfers to Israel
Over 20,000 people have supported a new call on the Foreign Secretary Philip Hammond to stop arms transfers to Israel.
Amnesty's
campaign
for an immediate suspension of all UK arms transfers to Israel - as well as for pressure to be exerted on those supplying Palestinian groups in Gaza with munitions - was launched late on Friday. 
Last year the UK sold £6.3m of arms to Israel. In the past, UK-supplied equipment has been used by the Israeli military to commit human rights violations in Gaza.