Israel: reports of financial action against Amnesty are 'alarming'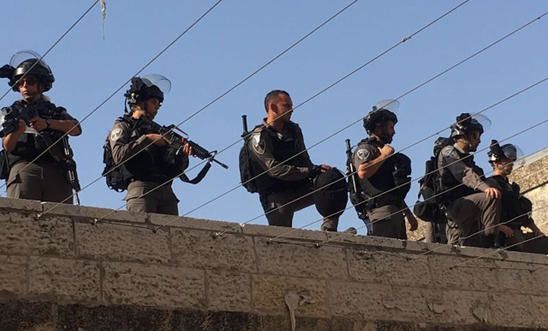 The Israeli military has maintained an illegal occupation of Palestinian territories spanning half a century © Amnesty International
Media reports suggest government intends to strip tax benefit from Amnesty as punishment for its settlement goods campaign
'Taking punitive action against Amnesty International over its settlements campaign would constitute a brazen attack by the Israeli authorities' - Magdalena Mughrabi
Event in London later this month will discuss illegal settlements
Responding to reports circulating in Israeli media today suggesting that the Israeli Finance Ministry is planning to take action against Amnesty International over its campaign calling on governments to ban imports of Israeli settlement products, Magdalena Mughrabi, Amnesty International's Middle East and North Africa Deputy Director, said:
"The reports that the Israeli government plans to punish Amnesty International over its settlements campaign are deeply alarming. 

"While we have not been officially informed of any such action by the authorities, if true, this would be a serious setback to freedom of expression and an ominous sign for the ability of human rights NGOs in Israel to operate freely and without arbitrary interference.

"Taking punitive action against Amnesty International over its settlements campaign would constitute a brazen attack by the Israeli authorities on the organisation's legitimate human rights work.

"It would also be the latest effort by the authorities to silence human rights organisations and activists who criticise the Israeli government and call for accountability."
Israeli media have reported that the Israeli authorities - under the country's controversial 2011 anti-boycott law - is intending to change the status of Amnesty's Israeli section so that donations to the organisation will no longer be tax-deductible. Amnesty's Israeli section only became eligible for the tax benefit last October.
As yet, Amnesty has received no official notification about whether any action is to be taken and is seeking confirmation from the Israeli Ministry of Finance.
Goods 'tainted by illegality'
In June, to mark the 50th anniversary of Israel's occupation of the West Bank, including East Jerusalem, and the Gaza Strip, Amnesty launched a campaign calling on all countries to prohibit goods made in illegal Israeli settlement from their markets and to prevent their companies from operating in settlements or trading in settlement goods. Hundreds of millions of pounds' worth of goods produced in Israeli settlements built on occupied Palestinian land are exported internationally each year, despite the fact that most countries around the world have officially condemned the settlements as illegal under international law. Israeli and international businesses have also enabled and facilitated settlement construction and expansion. In the UK, imported settlement goods include oranges, dates, spring water and halva desserts. Amnesty has described these goods as "tainted by illegality".
Amnesty has repeatedly emphasised that the very existence of Israeli settlements in the Occupied Palestinian Territories violates international law, a matter on which there is international consensus and is reflected in UN Security Council resolutions. Settlements have contributed to decades of mass suffering and violations in the Occupied Palestinian Territories.
Amnesty generally does not support or oppose consumer boycotts. The organisation does however defend people's rights to participate in and advocate for boycotts if they so choose, and has campaigned on behalf of those who have been punished for doing so. 
London event
On 25 September, Amnesty International UK and the Palestine Solidarity Campaign are hosting a panel discussion event in London on the Israeli occupation. The event will see two high-profile Palestinian human rights activists - Issa Amro and Farid al-Atrash - discussing the impact of the occupation. Both are currently facing charges in an Israeli military court for exercising their rights to freedom of expression and assembly.