Iraq: new testimony shows ISIS taking human shields in battle for Mosul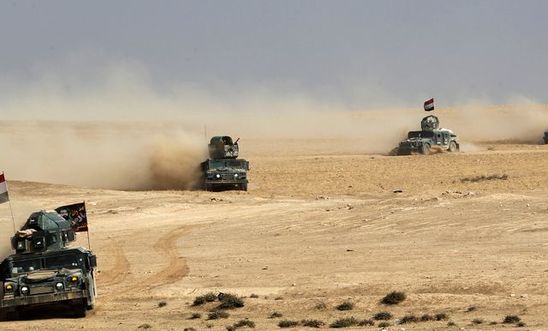 As Iraqi government forces advance on Mosul, ISIS fighters are using human shields © AFP/Getty Images
Civilians kept in schools, homes and other locations near ISIS fighters 
'ISIS fighters were based in our neighbour's house and fired from there' - man from Dirij village
Displaced people in Kurdish-controlled camps not permitted to leave or make phone calls
'With more than a million people believed to be still trapped in Mosul and its outskirts, the risks to civilians are sky high' - Lynn Maalouf
New testimony gathered by Amnesty International in northern Iraq points to the Islamic State armed group using civilians as human shields in the battle for the city of Mosul, while civilians are also being endangered by the Iraqi government forces' own operations. 
An Amnesty research team has met civilians displaced from their homes in villages north of Mosul in recent days who are now in Zelikan and Khazer camps, areas controlled by the Kurdistan Regional Government (KRG). Amnesty has also conducted phone interviews with people still trapped under ISIS control, gathering fresh evidence pointing to civilian deaths and injuries during in recent days. 
Some civilians who managed to flee the fighting or whose villages had been recaptured by government forces told Amnesty that ISIS fighters had deliberately prevented them from fleeing conflict areas. ISIS fighters had embedded themselves within the civilian population, taking up positions in residential areas, in some cases forcing civilians to move to areas under their control. Residents of Tab Zawa told Amnesty that ISIS fighters had used both vacant and occupied villagers' homes and rooftops to carry out their attacks.  
A man who fled from the village of Dirij in Bashika district told Amnesty that his 17-year-old-brother sustained a gunshot wound to the leg while at home during clashes between ISIS and Peshmerga (Kurdish armed forces) on 22 October. He said:
"ISIS fighters were based in our neighbour's house and fired from there. After my brother was shot, we remained trapped inside the house while fighting was ongoing, and just tried to stop the bleeding … After two days, he was losing consciousness and could no longer control his body movements. We took the opportunity of an air strike on Daesh and ran for our lives carrying him, until we met the Peshmerga. He is in the hospital in Dohuk now." 
Mohamed (not his real name), a farmer from Chanchi village, told Amnesty that he lost his wife and another 13-year-old relative on Sunday during clashes between ISIS and Peshmerga forces. He said ISIS fighters prevented them from leaving the area. Some 70 people had gathered in one house at the northern edge of the village when mortars struck at about 1pm, according to witnesses. The 13-year-old boy died immediately as a result of head wounds and three children - aged between four and 13 - were injured. "Mohamed" said:
"My wife was hit just under her ribcage and, as time passed, she complained about sharp pain and her bleeding increased, until all her clothes were covered in blood. We were trapped inside as fighting wore on. She died right there and I couldn't do anything to save her. We had asked Daesh to let us leave even in the direction of Mosul, but they refused. They shot at some of our neighbours who tried to escape." 
In some cases, ISIS fighters forced civilians from villages south of Mosul to move to areas under their control as they retreated from Iraqi forces' attacks. Local officials, activists and a resident of al-Qayyara district, who spoke to Amnesty over the phone from an ISIS-controlled area, said that civilians were kept in schools, homes and other locations near ISIS fighters in Hamam Al-Alil after being forced to move from their homes further south. 
Lynn Maalouf, Deputy Director for Research at Amnesty International's Beirut regional office, said:
"ISIS's utter disregard for the safety of civilians and their apparently deliberate use of human shields is putting people trapped in areas of active conflict at even greater risk, as Iraqi forces advance. 

 

"Using civilians to shield yourself from attack is a war crime. But even in cases when ISIS fighters are holding civilians as human shields, this does not absolve Iraqi and coalition forces from the obligation to take their presence into account, take all feasible precautions to minimise harm to civilians, and avoid launching attacks that could cause disproportionate harm to civilians.

 

"With more than a million people believed to be still trapped in Mosul and its outskirts, the risks to civilians are sky high."
Farmer killed during ISIS-government clashes
Relatives told Amnesty that a farmer and father of eight from the Tab Zawa village in Bashiqa district of Ninewa Governorate, northeast of Mosul, was at home with nine family members when he was fatally wounded during clashes between ISIS and government forces on Tuesday. Since then the village has been retaken by Iraqi forces, including the elite Golden Brigade of the Counter Terrorism Service, who evacuated civilians and handed them over to Kurdish forces. On the same day, two young brothers, aged six and five, were wounded by shrapnel while at home in Tab Zawa village. Their father told Amnesty that a fence struck by what he believed to be a rocket collapsed on him and his two sons as they ran outside to a shelter they had dug in the garden: 
"My two boys were hit, and we couldn't even take them to a hospital or clinic because fighting raged on. We just tried to stop the bleeding and clean the wounds. On the following morning, they were transported in ambulances to a hospital in Erbil, and my oldest son had an operation on his back."
People in KRG-controlled camps not permitted to leave
Those currently in KRG-controlled camps are not being permitted to leave the camps except for medical treatment in cases of acute emergency. Even in such cases, relatives are forbidden from accompanying patients. Such restrictions, along with the prohibition of the use of mobile phones by recent arrivals, even apply to those who have undergone security screening to determine whether they have links to ISIS. The Kurdish authorities are justifying these restrictions on security grounds – though Amnesty has repeatedly called on the Kurdish authorities to lift all arbitrary and discriminatory restrictions on the freedom of movement of internally-displaced people. 
By 26 October, more than 10,500 people had been displaced since the launch of coalition military operations to retake Mosul, while up to 1.5 million people are believed to remain trapped in Mosul and its outskirts.