Iran: UK must act after fresh uncertainty over Nazanin Zaghari-Ratcliffe's fate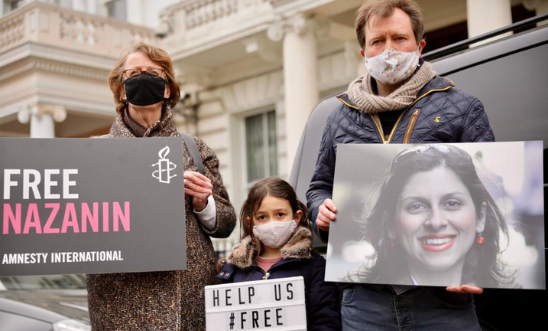 Nazanin Zaghari-Ratcliffe has been detained in Iran since April 2016 © FreeNazanin campaign
'It remains vital that the UK government makes urgent representations to get this second trumped-up case against Nazanin dropped' - Kate Allen  
Responding to reports today that the British national Nazanin Zaghari-Ratcliffe will receive a verdict in a new Iranian Revolutionary Court case against her within the next week, Kate Allen, Director at Amnesty International UK, said:
"This is exactly the kind of fresh uncertainty that we and the family had feared would arise from today's hearing.

"More delay equals more stress and more anxiety for Nazanin on top of everything she's already been through.

"It obviously shouldn't still be dragging on like this. One trumped-up case against Nazanin was bad enough - a second one is an act of cruelty. 

"We share the family's disappointment that UK officials didn't attend today's hearing to show Nazanin the kind of support she needs and is entitled to. 

"The Iranian authorities systematically violate fair trial rights, so it remains vital that the UK government makes urgent representations to get this second trumped-up case against Nazanin dropped. 

"We've said it before but we'll say it again - this won't be over until Nazanin has her passport in her hand and is sitting on a flight back to Britain."
Developments in past week
Last week, Zaghari Ratcliffe, 42, had her ankle security tag removed after being required to keep it on at her parents' home in Tehran for the past year. However, this news was delivered alongside a summons for her to appear in a Revolutionary Court today (14 March) in relation to a fresh case again her. 
Earlier this month, Amnesty and numerous supporters of Zaghari-Ratcliffe took part in a countdown to freedom using the hashtag #FreeNazanin. Last week, the day after her ankle tag was removed but she was threatened with a possible new jail sentence, Amnesty UK Director Kate Allen accompanied Nazanin's husband Richard, their daughter Gabriella and Nazanin's brother Mohamed at a protest outside the Iranian Embassy in London. Richard Ratcliffe attempted to deliver a 160,000-signature Amnesty petition calling for his wife's release to the embassy, but officials refused to accept it.