Iran: relatives of 'White Wednesdays' founder arrested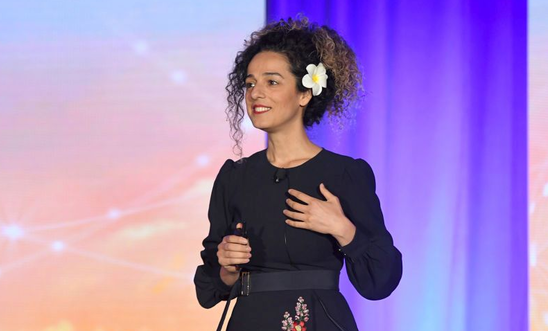 Masih Alinejad is a prominent campaigner for women's rights in Iran © Getty Images
Three relatives of US-based women's rights activist Masih Alinejad detained last night
Arrests come soon after shocking death of 'Blue Girl' football fan  
'The fact that they have resorted to going after the family members of an activist is an indication of just how threatened the authorities feel' - Philip Luther
The Iranian authorities have arrested three family members of the founder of the White Wednesdays campaign against the country's forced veiling laws.
The three are relatives of Masih Alinejad, a prominent US-based Iranian journalist and activist.
Yesterday evening, the journalist's brother, Alireza Alinejad, and Hadi and Leila Lotfi, brother and sister of her former husband, Max Lotfi, were all arrested at their homes in Tehran and the northern city of Babol by officials from the ministry of intelligence. 
Like Masih Alinejad, Max Lotfi is based abroad and is also involved in the White Wednesdays campaign. 
Hadi Lotfi was released after being interrogated overnight about Masih Alinejad's and Max Lotfi's activities. He was told that any contact with her or "her team" would be considered a criminal offence, and also informed that he is banned from leaving Babol and would be summoned for more questioning.
Meanwhile, the authorities have refused to disclose the whereabouts of Alireza Alinejad and Leila Lotfi or the reason for their arrest. Amnesty believes that they may be at risk of torture and other ill-treatment. 
This is not the first time the Iranian authorities have targeted Masih Alinejad's family. In March, the authorities summoned her elderly mother, Zarrin Badpa, for interrogation. She was questioned for two hours about her daughter's activities while being filmed. Amnesty expressed concern that the authorities may use statements she gave under duress in future propaganda videos, given their previous record of engaging in such practices. 
 
Philip Luther, Amnesty International's Middle East and North Africa Research Director, said: 
"These arrests are a blatant attempt by the Iranian authorities to punish Masih Alinejad for her peaceful work defending women's rights. 

"Two weeks ago, the death of Sahar Khodayari - who set herself on fire after facing charges for trying to enter a football stadium - shocked the world and drew attention to Iran's appalling treatment of women.

"Last night's arrests are another illustration of the Iranian authorities' chilling determination to crush women's rights activism. 

"The fact that they have resorted to going after the family members of an activist is an indication of just how threatened the authorities feel by the growing support for the women's rights movement in Iran and how desperate they are to put a stop to it."