Iran: prisoner flogged 60 times at weekend and still at risk of amputation punishment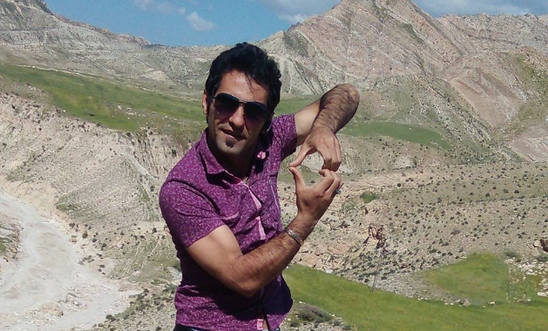 Rostami was convicted of robbery following a grossly unfair trial marred by torture-tainted 'confessions' © Private
Thirty-three-year-old Hadi Rostami flogged for 'disrupting prison order'
He has twice tried to take his own life and faces having four fingers amputated after grossly unfair robbery conviction
'We call on the Iranian authorities to immediately stop such shocking acts of cruelty and mutilation' - Diana Eltahawy
An Iranian prisoner who was flogged 60 times at the weekend and who has also attempted to take his own life on two occasions, is at risk of having four fingers amputated as part of a "shocking" and deeply "cruel" sentence, said Amnesty International today. 
Hadi Rostami, 33, an inmate at Urumieh prison in Iran's West Azerbaijan province, was flogged 60 times on Sunday. 
The flogging was an additional punishment for his peaceful protests - including hunger strikes - against his inhumane prison conditions and repeated threats by the prison authorities over recent months that his amputation sentence would be implemented imminently.
Rostami was convicted of robbery in November 2019 following a grossly unfair trial marred by torture-tainted "confessions", and was sentenced to have four of his fingers amputated. In recent months, prison, intelligence and prosecution officials in Urumieh prison have blamed Rostami for media attention on the cases of several men at the jail at risk of amputation (see details below), threatening that his amputation sentence would be carried out imminently.
Late last year, Rostami was sentenced to 60 lashes and eight months' imprisonment for "disrupting prison order". 
All of this has taken a severe toll on his mental health, leading him to attempt to take his own life on two occasions - most recently by swallowing pieces of broken glass on 18 January. 
According to information obtained by Amnesty from an informed source, Rostami remains in severe pain. He suffers from internal bleeding and vomits blood because of glass shards in his digestive system. However, the prison authorities are refusing to allow his transfer to an outside medical facility to receive the specialised treatment he needs. Despite contemplating self-mutilation and having suicidal thoughts, he is also not receiving mental health care.
Diana Eltahawy, Middle East Deputy Director at Amnesty International, said: 
"The cruel lashing of an ailing, suicidal prisoner is another reminder of the inhumanity of Iran's criminal justice system, which legalises torture and other ill-treatment.
 
"The Iranian authorities are committing torture by leaving Hadi Rostami in constant fear of amputation and deliberately denying him urgently-needed medical care for complications resulting from his recent suicide attempts.

"We call on the Iranian authorities to immediately stop such shocking acts of cruelty and mutilation, and treat all prisoners with human dignity.

"We call on the Iranian authorities to quash Hadi Rostami's conviction and amputation sentence immediately, and grant him a fair retrial without resorting to corporal punishments. 

"They must also immediately provide him with the specialised physical and mental health care that he requires outside prison." 
Six men at risk of amputation at Urumieh
Last September, Amnesty warned that Iran's Supreme Court had upheld amputation sentences against four men - including Hadi Rostami - following unfair trials. In December, Amnesty published further information indicating that the prison authorities were preparing to bring a guillotine to Urumieh to carry out the amputation sentences of up to six men. It appears that this has not yet occurred. The six at risk are: Hadi Rostami, Mehdi Sharfian, Mehdi Shahivand, Kasra Karami, Shahab Teimouri Ayeneh and Mehrdad Teimouri Ayeneh. 
According to Abdorrahman Boroumand Center, a US-based human rights organisation working on Iran, over the past two decades, the Iranian authorities have amputated the fingers of at least 129 people and flogged at least 2,134 prisoners, including at least 17 children. On average, the authorities have amputated the fingers of at least one person every two months and flogged at least two people every week (see more background here). Cruel and inhumane punishments such as flogging and amputation constitute torture, which is a crime under international law and prohibited under the International Covenant on Civil and Political Rights, to which Iran is a state party.