Iran: four men sentenced to have fingers amputated for theft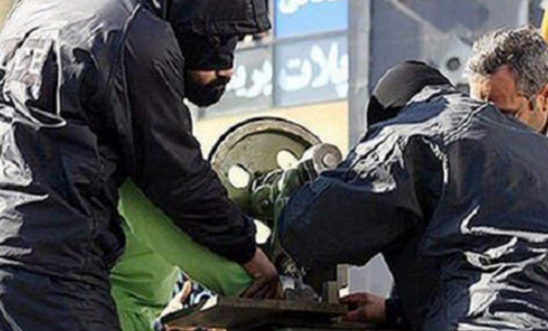 More than 100 people have suffered amputation punishments in Iran in recent years © ISNA
The men - from West Azerbaijan province - were tortured into making false confessions 
More than 100 people have suffered amputation punishments in recent years
'Carrying out such unspeakably inhumane punishments is not justice' - Diana Eltahawy
The international community must urgently press the Iranian authorities to halt plans to amputate the fingers of four men convicted of robbery following forced "confessions" and grossly unfair trials, said Amnesty International today. 
According to information obtained by Amnesty, four men - Hadi Rostami (33), Mehdi Sharfian (37), Mehdi Shahivand (42) and Kasra Karami (40) - have been sentenced to "have four fingers on their right hands completely cut off so that only the palm of their hands and their thumbs are left", as per punishment for certain types of robbery under Article 278 of Iran's Islamic Penal Code. 
The sentences have been upheld by Iran's Supreme Court and referred to the Centre for the Implementation of Sentences, meaning they could be carried out at any moment. 
There are serious concerns that the men were tortured into making false confessions (see case details below). 
The Iranian authorities have defended amputation as a means to deter theft, even expressing regret that it cannot be carried out in public and on a widespread basis without international condemnation. According to the Abdorrahman Boroumand Foundation, a US-based human rights organisation working on Iran, since January 2000 the Iranian authorities have sentenced at least 237 people to amputation and carried out the sentences in at least 129 cases. The real number of victims is likely to be higher due to underreporting.
As a party to the International Covenant on Civil and Political Rights, Iran is legally obliged to prohibit and punish torture - including amputation, flogging, forced blinding and stoning. 
Beyond halting these four men's punishments, Amnesty is calling on the Iranian parliament to abolish corporal punishment, and move towards a criminal justice system focused on rehabilitating prisoners and enabling them to return to the community to lead dignified lives. 
Diana Eltahawy, Amnesty International's Middle East and North Africa Deputy Director, said:
"Carrying out such unspeakably inhumane punishments is not justice and underlines the cruelty of Iran's criminal justice system. 

"Amputation constitutes torture, which is a crime under international law, and an abhorrent assault on human dignity. 

"We call on the Iranian authorities to immediately and unconditionally stop such shocking acts of cruelty. 

"The international community must urgently act to ensure the sentences are quashed. The prosecution and judicial authorities responsible for ordering and executing such practices should know that they are liable to face criminal prosecution under international law."
Allegations of torture
Kasra Karami was sentenced to amputation by Criminal Court 1 in West Azerbaijan province on 12 February 2017. Following his arrest on 12 October 2015, he says he was denied access to a lawyer and tortured in a detention centre in Urumieh run by the Investigation Unit of Iran's Police to make a "confession" later unlawfully used as evidence against him
Hadi Rostami, Mehdi Sharfian and Mehdi Shahivand were all sentenced to amputation on 19 November 2019 after the same court in West Azerbaijan found them guilty of breaking into four houses and robbing safes containing cash and valuables. Their trial was grossly unfair and similarly relied on forced "confessions" obtained while they were detained - without access to their lawyers - in a detention centre run by the same investigation unit.
Based on information obtained by Amnesty, at least one of the men - Hadi Rostami - has repeatedly denied the charges and retracted his "confession" in court, saying it was made under torture. In a letter - seen by Amnesty - written to the head of the judiciary four days ago, Rostami said interrogators punched, kicked and beat him with various instruments. He said an interrogator demanded he sign a blank piece of paper and he did so only when he reached the point of physical and mental collapse. The prosecution authorities subsequently added details to the paper to make it appear that he had accepted the charges. 
Poor backgrounds
The victims of amputations in Iran are overwhelming from poor, vulnerable backgrounds. By deliberately maiming them, the Iranian authorities often leave them with fewer means to find work and sustain themselves, particularly in a society where people with physical disabilities face widespread discrimination.  
Hadi Rostami said in his written appeal to the judicial authorities that he and his family are poor. Since his arrest four years ago, his wife has been left with no means to care for their child, who has a permanent serious disability. Court documents reviewed by Amnesty indicate that Kasra Karami and Mehdi Shahivand have also stated in court that they and their families are poor, and they committed theft due to poverty and extreme financial need.