Iran: six men face amputation punishments for 'robbery'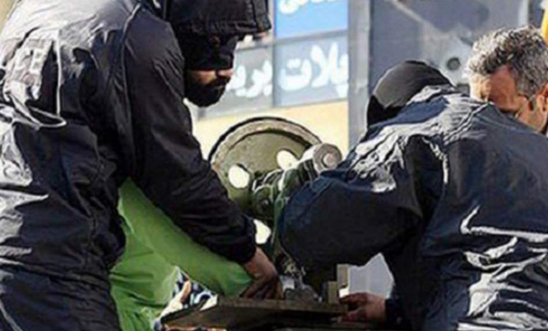 The authorities are preparing to bring a guillotine to Urumieh prison in Iran's West Azerbaijan province © Private
Men were convicted after grossly unfair trials involving torture-tainted 'confessions'
Authorities in Urumieh preparing to bring a guillotine to the jail
New figures show Iran carries out amputation punishments on average every two months, while also flogging two prisoners every week
'Amputation is judicially-sanctioned torture' - Diana Eltahawy
The Iranian authorities must halt imminent plans to amputate the fingers of six men convicted of robbery following unfair trials and torture-tainted "confessions", said Amnesty International today. 
Amnesty has learnt that the authorities in the city of Urumieh in Iran's West Azerbaijan province are preparing to bring a guillotine to Urumieh prison to amputate the fingers of up to six men - Hadi Rostami, Mehdi Sharfian, Mehdi Shahivand, Kasra Karami, Shahab Teimouri Ayeneh and Mehrdad Teimouri Ayneh. 
The men were sentenced - following grossly unfair trials - to "have four fingers on their right hands completely cut off so that only the palm of their hands and their thumbs are left", as per the punishment for certain types of robbery under Article 278 of Iran's Islamic Penal Code. The men were all denied access to lawyers during the investigation phase of their cases, and courts relied on torture-tainted "confessions" to obtain convictions.
Concerns that their sentences will be carried out imminently come days after the prosecution authorities in Tehran flogged a labour rights activist, Davoud Rafiee, 74 times on 23 November for "insulting" the minister of labour.
According to the Abdorrahman Boroumand Center, a US-based human rights organisation working on Iran, over the past two decades (January 2000 to November 2020), the Iranian authorities have amputated the fingers of at least 129 people and flogged at least 2,134, including at least 17 children. On average, the authorities have amputated the fingers of at least one person every two months and flogged at least two people every week. (See more background here).
Diana Eltahawy, Amnesty International's Middle East and North Africa Deputy Director, said:
"The Iranian authorities are yet again readying their tools of torture to deliberately mutilate and traumatise people through unspeakably cruel corporal punishments.

"Amputation is judicially-sanctioned torture, and a serious crime under international law.   We call on the Iranian authorities to immediately quash the amputation sentences, abolish all forms of corporal punishment, and grant effective remedies to victims.

"Amnesty International urges the international community, including the EU, its member states and UN human rights bodies, to urgently intervene to stop the Iranian authorities from amputating the fingers of these six men."