Iran: more than 7,000 arrested last year in crackdown of 'staggering scale' - new figures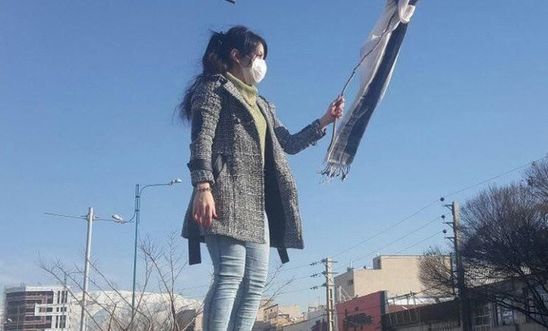 A woman in the city of Karaj protesting against the forced wearing of headscarves last year © White Wednesdays Campaign
Women protesting against being forced to wear headscarves among those rounded up
'2018 will go down in history as a year of shame for Iran' - Philip Luther
The Iranian authorities arrested more than 7,000 people in a sweeping crackdown against protesters and dissidents in the past year, said Amnesty International today, as it published new figures on the scale of Iran's repressive measures. 
Those swept up by the crackdown include students, journalists, environmental activists, factory workers, lawyers, women's rights activists, minority rights activists and trade unionists. 
Hundreds were sentenced to prison terms or flogging, and at least 26 protesters were killed. Meanwhile, nine of those arrested died in custody under suspicious circumstances. 
Throughout the year - and particularly during the months of January, July and August - the Iranian authorities violently dispersed peaceful demonstrations, beating unarmed protesters and using live ammunition, tear gas and water cannons against them. Thousands of people were arbitrarily arrested and detained. 
Some of those swept up in the wave of arrests during the high-profile January protests were students, human rights defenders and journalists, while managers of channels on the popular mobile messaging application Telegram were also targeted. 
Overall in 2018, whether in the context of protests or as a result of their work, 11 lawyers, 50 media workers and 91 students were detained arbitrarily.
At least 20 media workers were sentenced to long prison or flogging sentences after unfair trials. One journalist, Mohammad Hossein Sodagar, from the Azerbaijani Turkic ethnic minority, was flogged 74 times in the city of Khoy after being convicted of "spreading lies". Another media worker, Mostafa Abdi, who is an administrator of the Majzooban-e-Noor website reporting on human rights abuses against the Gonabadi Dervish religious minority, was sentenced to 26 years and three months in prison, 148 lashes, and other punishments.
In addition, at least 112 women human rights defenders were arrested or remained in detention in Iran during 2018.
Amnesty is currently calling on the UK Government to properly respond to the attacks on human rights defenders around the world, including in Iran.  
Philip Luther, Amnesty International's Middle East Research and Advocacy Director, said:
"2018 will go down in history as a 'year of shame' for Iran. 
"The staggering scale of arrests, imprisonments and flogging sentences reveal the extreme lengths the authorities have gone to in order to suppress peaceful dissent.

"From underpaid teachers to factory workers struggling to feed their families, those who have dared to demand their rights in Iran today have paid a heavy price.

"Throughout 2018, the Iranian authorities waged a particularly sinister crackdown against women's rights defenders. 

"Governments which are engaged in dialogue with Iran must not stay silent while the net of repression rapidly widens."
Women's rights defenders 
Throughout 2018, brave women's rights defenders across the country joined an unprecedented protest movement against the abusive and discriminatory forced hijab (veiling) laws in Iran. Women took to the streets and stood on raised structures in public places, silently waving their headscarves on the ends of sticks. In response, they suffered a bitter backlash from the authorities, facing violent assault, arrest and torture, and some were jailed after grossly unfair trials. 
Shaparak Shajarizadeh was sentenced to 20 years in prison, 18 of which were suspended, for her peaceful protest against forced hijab. She fled Iran after she was released on bail, and has since described in media interviews how she was denied access to her lawyer and subjected to torture in solitary confinement. 
Nasrin Sotoudeh, a prominent human rights lawyer who represented Shajarizadeh, was herself arrested on 13 June for defending protesters against forced hijab. She faces several national security-related charges which could see her jailed for more than ten years, in addition to the five-year sentence she is already serving for her anti-death penalty work. 
Workers' rights and trade unionists
Last year also saw Iran engulfed in a deepening economic crisis, triggering strikes and worker protests - including a series of major protests by sugar cane workers from the southwestern city of Ahvaz. 
In response, the Iranian authorities arrested at least 467 workers, including teachers, truck drivers and factory workers, summoned others for questioning (subjecting many to torture), and sentenced dozens to prison terms. Courts also handed down flogging sentences amounting to a total of nearly 3,000 lashes against 38 workers. 
On 10 May, the Iranian authorities violently dispersed a peaceful protest by Tehran teachers calling for higher wages and better funding of public education. By the end of the year, the authorities had arrested at least 23 teachers following nationwide strikes in October and November. Eight were sentenced to jail terms and lashes.
Throughout the year, at least 278 truck drivers were arrested and some threatened with the death penalty after they took part in nationwide strikes demanding better working conditions and higher wages. 
Ethnic and religious minorities 
During 2018, Iran also intensified its discriminatory crackdown against religious and ethnic minorities, arbitrarily arresting and imprisoning hundreds, and curtailing their access to education, employment and other services. 
Members of Iran's largest Sufi order, the Gonabadi Dervish religious minority, faced a particularly vicious crackdown after a peaceful protest in February was violently suppressed. Hundreds were arrested and more than 200 were sentenced to a total of 1,080 years in prison, 5,995 lashes as well as internal "exile", travel bans, and bans on joining political and social groups. One person, Mohammad Salas, was sentenced to death after a grossly unfair trial and swiftly executed.
At least 171 Christians were arrested in 2018 solely for peacefully practising their faith, according to the organisation Article 18. Some received sentences of up to 15 years in prison. 
The authorities also continued their systematic persecution of the Baha'i religious minority, arbitrarily detaining at least 95, according to the Baha'i International Community.
Large numbers of people from ethnic minority groups have also faced human rights abuses. Hundreds of Ahwazi Arabs were rounded up after protests in April over a state TV broadcast's exclusion of the group from a map of Iran's ethnic minorities. In October, following a deadly armed attack on a military parade in Ahvaz the previous month, more than 700 Ahwazi Arabs were secretly detained according to activists outside Iran. 
Meanwhile, hundreds of Azerbaijani Turks, including minority rights activists, were also arrested in connection with peaceful cultural gatherings throughout the year, including in July and August, when at least 120 people were arrested. Some activists were sentenced to prison terms and flogging. Minority rights activist Milad Akbari was flogged in the city of Tabriz after being convicted of "disrupting public order" through "taking part in illegal gatherings and singing eccentric songs" at a cultural gathering.
Environmental rights activists
At least 63 environmental activists and researchers were reportedly arrested in 2018. Without providing evidence, the Iranian authorities accused a number of them of collecting classified information about Iran's strategic areas under the pretext of carrying out environmental and scientific projects. At least five were charged with "corruption on earth", which carries the death penalty.