Hong Kong: report into police conduct during protests denounced as 'biased'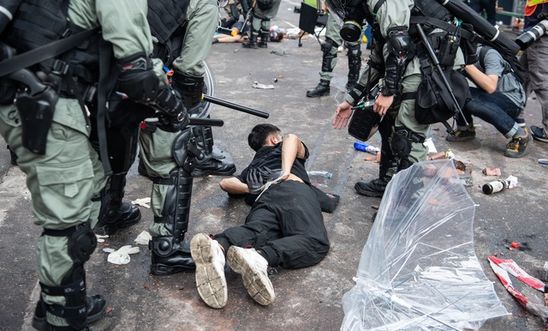 Amnesty documented unnecessary and excessive use of force by the police throughout the Hong Kong protests © Getty Images
Carrie Lam's endorsement of report suggests authorities want to 'whitewash' police violence
'The report has no impartiality, and the IPCC has no power to conduct a truly independent investigation' - Man-Kei Tam
In response to the Hong Kong Independent Police Complaint Council (IPCC) releasing a fact-finding report today on the policing of protests in the city during June 2019 to March 2020, Man-Kei Tam, Director of Amnesty International Hong Kong, said:
"This biased report will only fuel even more public anger. 

"The report has no impartiality, and the IPCC has no power to conduct a truly independent investigation.

"The IPCC disproportionately focused on the 'hatred and violence targeting police' by a small section of the protesters. 

"While admitting there was 'room for improvement' for the police handling of protests and other public incidents, the report fails to bring justice any closer for the repressive and unprofessional police operations seen during the protests. 

"Carrie Lam has given this report her full support and outright refuses to establish a Commission of Inquiry. In doing so, she continues to ignore the repeated calls from civil society, the United Nations and others in the international community for a genuinely independent investigation into the excessive use of force by the police during the protests. 

"Instead of trying to whitewash the human rights violations committed by the police during the protests, the Hong Kong government must immediately set up a Commission of Inquiry in line with international standards to investigate them.

"The fresh crackdown on recent protests that were entirely peaceful shows that the government believes it can silence dissent by taking an even tougher approach to curtailing freedom of expression and assembly."
No investigatory powers
Last July, the IPCC announced a fact-finding study into several public order events connected to the protests. However, the IPCC does not have its own investigative powers, such as the power to subpoena documents or summon witnesses. A foreign expert panel hired to help with the study stepped down in December, saying the IPCC lacked the investigative powers and capabilities necessary to "begin to meet the standards citizens of Hong Kong would likely require of a police watchdog operating in a society that values freedoms and rights".
In a recent judicial review in which an activist challenged the IPCC's mandate to investigate the protests, the IPCC representative made it clear that the study was not an investigation and would not reach any conclusions related to complaints filed against the police. The UN Human Rights Committee and the Committee against Torture have each repeatedly commented on the limitations of the IPCC in fulfilling the Hong Kong government's obligation to effectively investigate human rights violations. 
Amnesty has documented unnecessary and excessive use of force by the police throughout the Hong Kong protests, including dangerous use of lethal weapons. There is also evidence of torture and other ill-treatment in detention. An Amnesty report in March set out the necessity and the international legal framework for establishing a commission of inquiry to investigate the widespread human rights violations related to the protests.